These nut-free paleo crackers are so crispy and delicious, they taste better than the store-bought kind!
Ever since going gluten-free has gotten mainstream, I've been loving how many gluten-free and paleo products have been coming out on the market. When it comes to paleo crackers, while many of the ones I tried are super tasty, but I just don't love that most of them are nut-based.
Don't get me wrong. I LOVE nuts. They are nutritious, portable, and super addicting. However there IS such a thing as too much of a good thing. Because they are so addictive, if you are like me, it's hard to stop at just a handful even when it comes to crackers. They contain phytic acid like grains and high levels of Omega-6 fatty acids, both of which are known to cause inflammation.
So in order to continue my cracker snacking habits without digestive issues, I made these nut-free paleo crackers that are super delicious and really easy to make!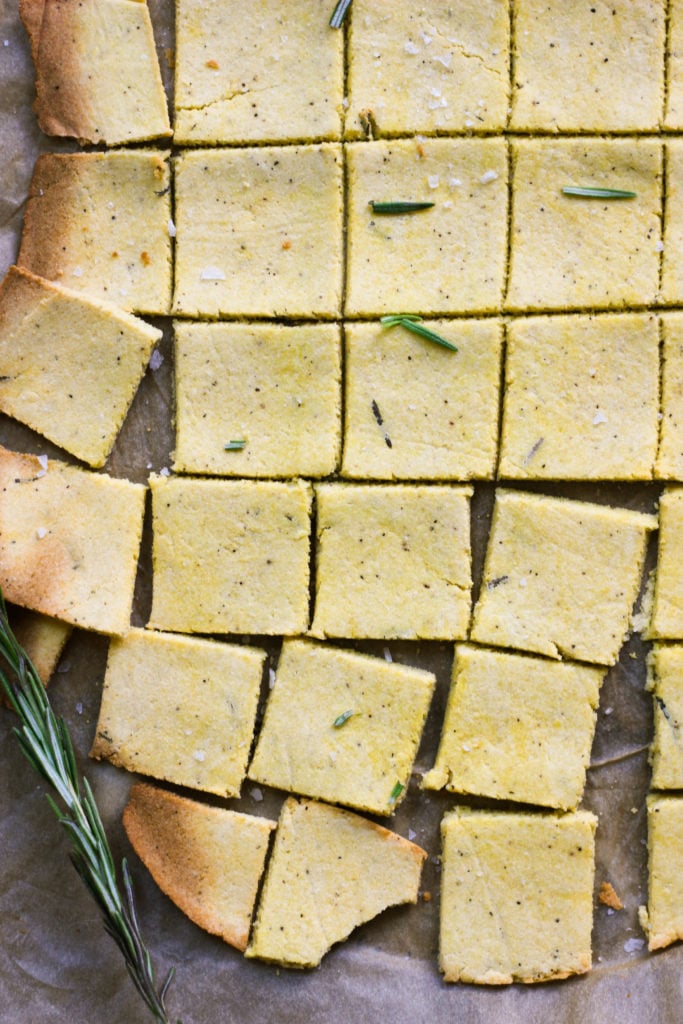 Instead of using a nut flour, I used coconut flour to make these nut-free paleo crackers, making them much easier to digest. The trick is to roll out the dough as thin as possible for that extra crispiness, and keeping a close eye on them while they are in the oven to make sure they don't burn.
I enjoyed these with the addition of garlic powder and rosemary, but you can customize the spices to make it any flavor you like. Eat it with your favorite dips like cauliflower nacho cheese, guacamole, or zucchini hummus!
Nut Free Paleo Crackers
Ingredients
½ cup coconut flour
¼ cup tapioca starch
½ tsp sea salt
Optional: Herbs or spices of your choice, like rosemary, garlic powder onion powder, pepper,
2 eggs
¼ cup water
¼ cup extra virgin olive oil
Instructions
Preheat oven to 350 degrees F.
Combine coconut flour, tapioca starch, salt, pepper, and any herbs or spices of your choice in a large bowl.
In a separate bowl, whisk together eggs and extra virgin olive oil.
Pour wet ingredients into dry ingredients and mix until a dough forms.
Place the dough between 2 parchment papers and use a rolling pin to roll it out as thin as you can without breaking the dough. The thinner the dough, the crispier the crackers!
Remove the top parchment paper. Use the back of a knife to slice the dough into 2 inch squares.
Bake for 20-25 minutes, keeping an eye on it to make sure the edges aren't burning.
If the center crackers are still soft, you can remove the outer pieces and bake the softer pieces for an additional 5 minutes until they crisp up.
Let cool completely before serving.