Answering some of the most common questions I get asked about food photography, and tips on how you can improve your food photography game!
Today, I wanna switch it up a bit and talk about food photography. I recently asked on Instagram Stories if I should do a blog post about this after getting a lot of direct messages about my photography, and I received an overwhelming amount of yes's. I'm quite flattered because I think I still have so much to learn and I'm constantly striving to improve.
To be completely honest, I didn't really know any technical terms about using my camera until recently. I never took a class, read a book, or have been taught much about photography before. I just picked up my camera and started shooting and I still think that's the fastest way to learn. However, if I did learn about how to use a camera properly early on, I'm sure my growth curve would've been much steeper.
With that said, I thought the best way to talk about taking food photos and what i do specifically is answer some of the questions that I get asked the most frequently. I hope this post helps you improve the way you take photos and maybe try out new methods so you can continuously expand your skills! So let's get started…
Q&A
What kind of camera and lens do you use?
I have a Canon EOS Rebel SL1. For all my blog food photos, I use a 50mm f1.8 lens. I also have a kit lens (came with the camera) that is 18-55m f3.5-5.6 which is a good all purpose one. That's what I use when I take photos while hiking and traveling. My husband and I have a collection of few other lenses but those 2 are the ones I use the most. I'm actually saving up to upgrade to a Canon EOS 5D Mark IV.
Do you use your fancy camera for all your photos or do you also use an iPhone?
All my blog photos and most of my Instagram photos are shot with my DSLR. I used to own an iPhone SE until recently which didn't have a great camera, so I would use my husband's phone if I wanted to share something when my camera wasn't on me. I did upgrade to an iPhone 8 a few months back so I take photos with my phone way more now, especially when I'm just showing what I ate for lunch like this photo:
Can you recommend good lights for when you have to take photos when it's dark out?
I'll be honest. I don't use artificial lights most of the time. it's hard to beat natural lighting when it comes to photos, so I'll schedule all my cooking so I can photograph everything in the daytime. The rare times I do photograph at nighttime, these are the ones I use.
Where do you get your backdrops?
O man, all the random places! I know there are companies that specialize in backdrops but they are super expensive, and you can get creative and have great backdrops for a fraction of the price.
Wooden cutting boards look great and you may probably own one already. The cheapest option for clean one-color backdrops are foam boards that you can get at any office supply store. If you wanna get more fancy, you can get some paint to paint the foam boards into any color you want or use a patterned adhesive film to stick on the boards. In the following photos, the first one shows a foam board backdrop that I painted with chalkboard paint, and the second photo is a backdrop where I stuck on a marble patterned adhesive film:
If you are looking for fabrics, you probably have kitchen towels you can use or you can get some dirt cheap fabrics at JOANN Fabrics and they always have coupons and sales.
Another great option is floor or wall tiles that you can get at Home Depot. They sell just one tile for about $2-15 and they make the prettiest backdrops. These were shot on tiles I got from there: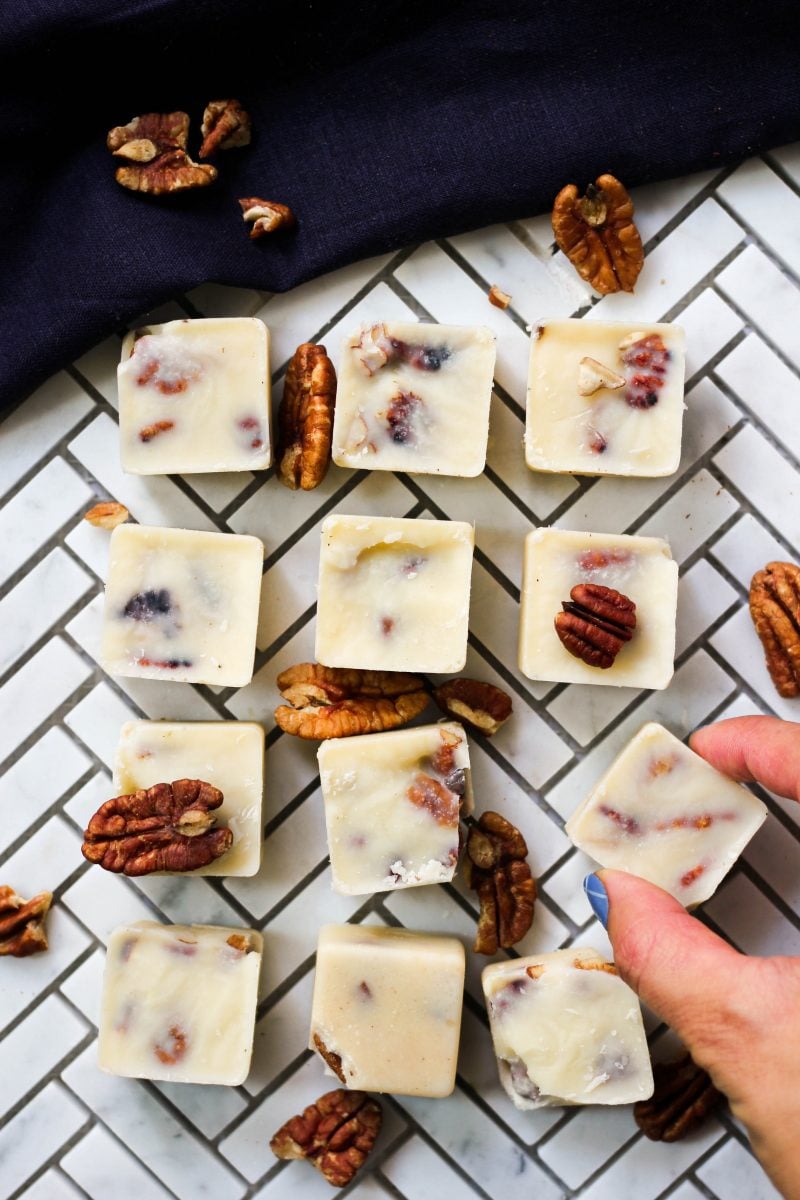 Other great options are wooden boards that you nailed together to make it look like a picnic table, and I made mine with just scrap wood boards that someone threw out in front of their house. I also really love the look of burnt and scratched up baking sheets, as well as parchment paper.
What app or program do you use to edit your photos?
For all the blog photos, I use Lightroom. And for a quick editing on my phone I use the VSCO app.
Do you have a presets and filters you like use?
I don't use presets for Lightroom. I just think every photo is so different in color, shadows, and lighting that it's hard to put one filter on it all. I do love the C1 filter on the VSCO app. And the rare times I use Instagram filters, I use a little bit of Clarendon on my photos.
How many photos do you take for one dish before you decide that you have the right shots?
Always different! Sometimes, I'll take 5-6 photos and be satisfied. But if it's more difficult depending on the lighting or the food subject, I can easily take 50+ photos while changing out the backdrop multiple times to achieve the look I desire.
What are you tricks to make "ugly" food pretty?
Haha, I actually received several questions similar to this and I think it's something many photographers struggle with until they learn some tricks to make food look good on camera. One of the easiest tips is to use garnish: I always have fresh cilantro and parsley on hand. Lemon and lime slices are also great, as well as spices like ground black pepper, cinnamon, and red pepper flakes. If the food is looking a bit dull, I have a spray bottle with water in it that I'll spray the food with to achieve that "shiny" look. I also used flowers in my photos although I don't do this often.
What are your biggest tips when it comes to food styling? 
Keep trying different things if the first way you style the food doesn't look great. Try different backdrops, fabrics, garnishes and composition. The types of plates you use can make a huge difference as well. However, make the food itself shine without letting it get overpowered by the styling props get in the way.
Who takes the photos of you that you post on Instagram? 
Ha, this isn't really a food photo questions but I've received several questions similar to this so I decided to include it. Half the time it's myself with my camera timer or a remote. The other half of the time it's my husband who's such a great sport about it all. When we are traveling or outdoors, it's him behind the camera 99% of the time.
What's the one thing that helped you improve your photography skills the most?
The most clichéd answer but it's honestly true: Just going for it. I know it can be super intimidating at first, but don't let that fear paralyze you from picking up your camera. I know there are bloggers who only use their iPhone for their blog photos and they look really great after some editing, especially now that phone cameras are getting better and better. Anyone can be a great photographer after practicing a lot so just start!
What is the one tip you would give to beginner food photographers?
Same answer as the question before, but also, follow other food photographers for inspiration. Especially with Instagram, it's easy to find some amazing photographers out there with so much talent. And once you start trying to recreate some of the images you see, you'll find your own style while building up your skills. I just love how you can tell certain photos are by a specific photographer because there's a character to the photos unique to that person. Here are some of my favorite food photographers:
There are so many more but those are some of my favorite food photographers I can come up with from the top of my head.
If you have any additional questions, make sure to leave a comment below and I'll answer them as well!
What Great Grandma Ate / Jean Choi is a participant in the Amazon Services LLC Associates Program, an affiliate advertising program designed to provide a means for sites to earn advertising fees by advertising and linking to Amazon.com.
Regarding other affiliate links and affiliate relationships: In order for me to support my blogging activities, I may receive monetary compensation or other types of remuneration for my endorsement, recommendation, testimonial and/or link to any products or services from this blog. Thank you for your support and understanding.