Happy Spring, everyone! This season is all about new beginnings, the weather getting warmer, and the birth of all the vibrant, beautiful colors. It's also a time to detox your home, your mind, and your body! Let's talk about the last one a bit. I don't believe in extreme diets or juice cleanses when it comes to detoxing (they are way too big of a shock to your system and can create more stress in the body), but you can AND should unload some toxins by switching to cleaner, better ingredients in your cooking.
One of the best ways to do this is by reducing inflammatory foods like gluten, refined sugar, low-quality dairy, and vegetable oils. However, it can be a daunting task to switch your diet, especially in this busy world that we live in juggling family, work, bills, friends, and ALL that we have going on. Who has hours to spend in the kitchen?
Well, I'm here to tell you that creating amazingly tasty and healthy recipes at home doesn't have to be time consuming NOR expensive. 
I have teamed up with amazingly talented food bloggers to bring you: 30 Minute Clean Eats on a Budget: 80 Quick and Easy Gluten-Free Recipes ebook! I'm so proud of this project that I contributed to and I've already started cooking from it and I'm LOVING all the recipes, and how quickly they come together!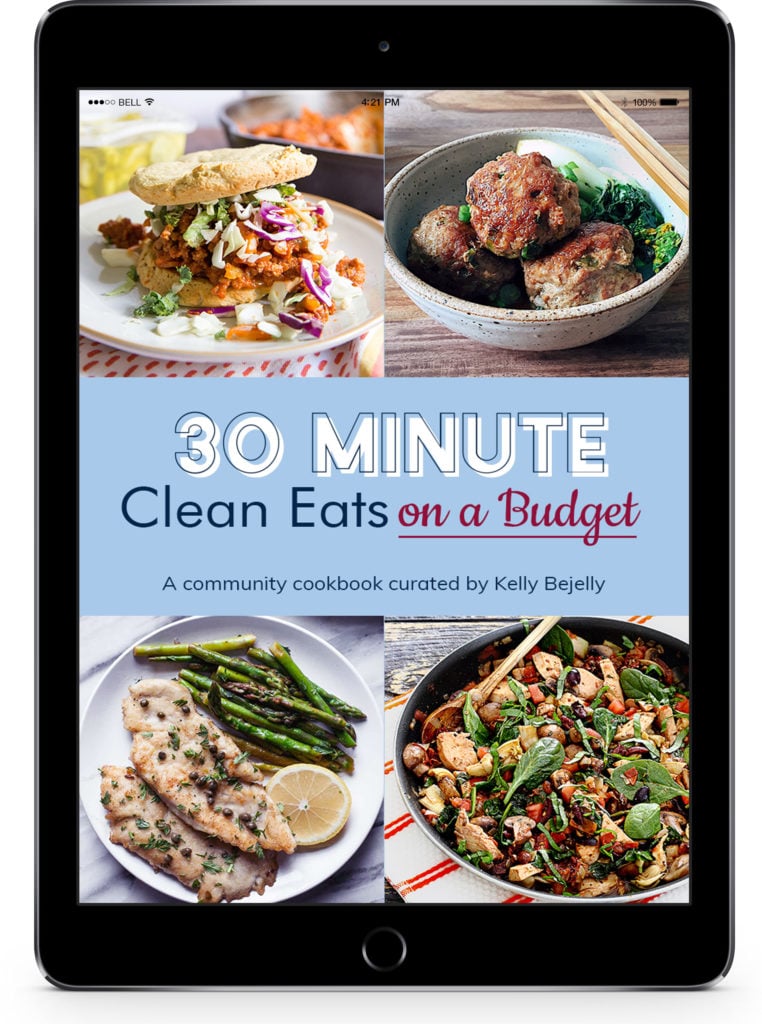 This book is jam packed with delicious 100% gluten free, Paleo-friendly recipes and money saving tips that will have you feeding your family in no time while being easy on the wallet. The recipes range from comfort foods, soups, burgers, and zoodles, to "must have meals" like Tex Mex Sloppy Joes, Sweet and Sour Chicken, Crispy Sweet Potato Fish Sticks and a whole lot more! You'll feel healthy and have more time and money to enjoy some warm weather activities with your loved ones.
Want to get your hands on the 30 Minute Clean Eats on a Budget ebook? Before you go to buy, I have a great deal and a discount for you:
For a limited time, get the bonus book, "Set it and Forget it: Budget Slow Cooker and Instant Pot® Recipes" for free ($9.99 value) with your purchase. No code necessary!
But that's not all! Head over to the purchase page and receive 30% off with the code: CHEAPEATS30
And guess what? This book release comes with an EPIC giveaway!
There will be 8 winners  and the following is the list of the amazingprizes!
Grand Prize: a 6 quart Instant Pot®, a Year Membership to Thrive Market and a Month Membership to 20 Dishes!
2nd Runner up: A Year Membership to Thrive Market and a Month Membership to 20 Dishes
6 Runner ups : A copy of 30 Minute Clean Eats on a Budget
*If you win the book after purchasing it already, you'll receive a FULL REFUND. This one's a no brainer. Go enter!
What Great Grandma Ate / Jean Choi is a participant in the Amazon Services LLC Associates Program, an affiliate advertising program designed to provide a means for sites to earn advertising fees by advertising and linking to Amazon.com.
Regarding other affiliate links and affiliate relationships: In order for me to support my blogging activities, I may receive monetary compensation or other types of remuneration for my endorsement, recommendation, testimonial and/or link to any products or services from this blog. Thank you for your support and understanding.