We are just a day away from St. Patrick's Day, and one of my few reasons why I love this day is because it means it's almost Spring! That's always a good thing to me because I just can't wait for the warm weather. I know it's so much colder and snowy in other parts of the country but I'm a summer girl and I'm the happiest under sunny warm skies.
And to celebrate almost-Spring, I made a SUPER easy and delicious one pot meal: Irish banger skillet! You literally just throw everything in a oven-proof skillet and bake it until it's done. I love these kinds of meals because it's so simple and you have less dishes to do. My favorite!
The traditional Irish bangers are usually pork sausage made with wheat flour. Since I can't handle gluten, I made them with regular ol' pork sausage which worked beautifully. This can also work with chicken as well. With cabbage, potatoes, and carrots, this Irish banger skillet makes a complete, budget-friendly meal your family will love.
If you need a yummy drink to go with your celebration of St. Patrick's Day, make sure check out my paleo and vegan Shamrock Shake. It's healthy and delicious, and taste GREAT with a bit of your favorite boozed mixed in as well.
Hope you imbibe safely and I wish you a giant pot of good luck and good cheer!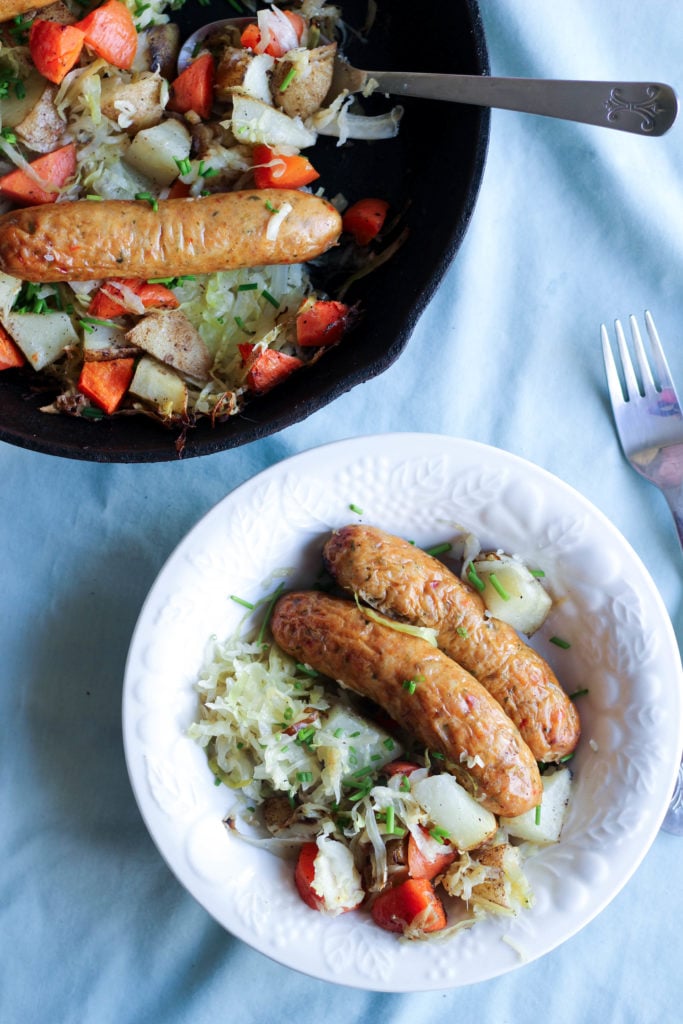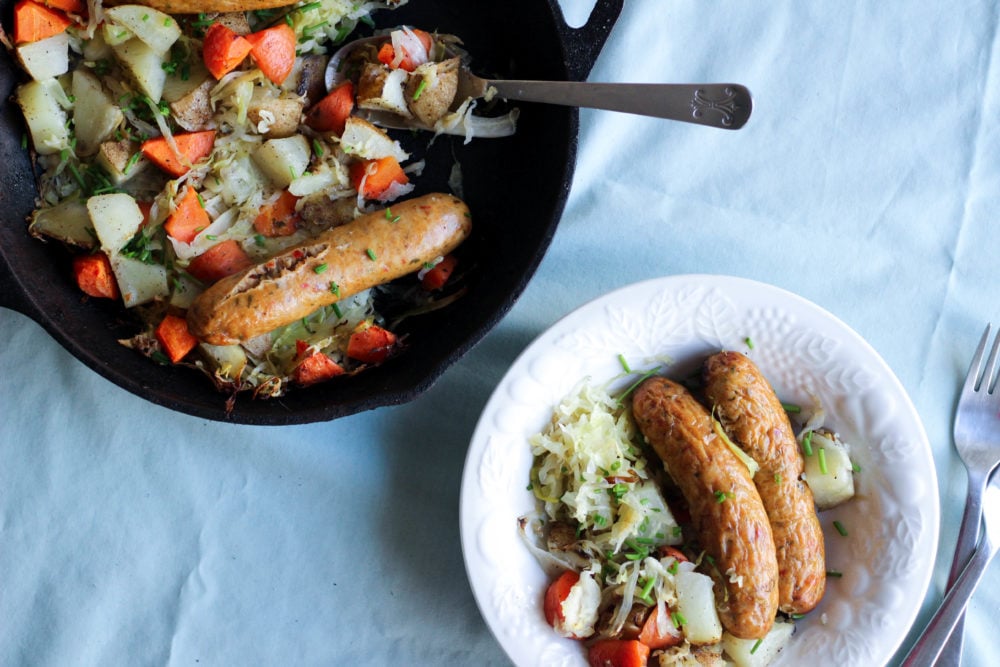 Ingredients
4

cups

of shredded cabbage

2

cloves

of garlic, minced

1

large russet potato, cubed

1

large carrot, chopped

1

tbsp

+ 1 tsp cooking fat, melted

1

tsp

sea salt, divided

Cracked black pepper, to taste

1

lb

chicken or pork sausage

1

tbsp

apple cider vinegar
Instructions
Preheat oven to 425 degrees F.

Place shredded cabbage and garlic In an oven-proof skillet, and toss with 1 tbsp cooking fat and 1/2 tsp of sea salt.

In a small bowl, toss potato and carrot with 1 tsp cooking fat and 1/2 tsp of sea salt until evenly coated. Place evenly on top of the cabbage. Sprinkle with black pepper.

Nestle the sausage between the potato and carrot mixture on top of the cabbage.

Bake for 20 minutes, then flip the sausages and bake for 15 additional minutes.

Splash evenly with apple cider vinegar before serving.