Not sure what to do with your Thanksgiving leftover meat? Here are some delicious paleo and Whole30 leftover turkey recipes so you don't let anything go to waste!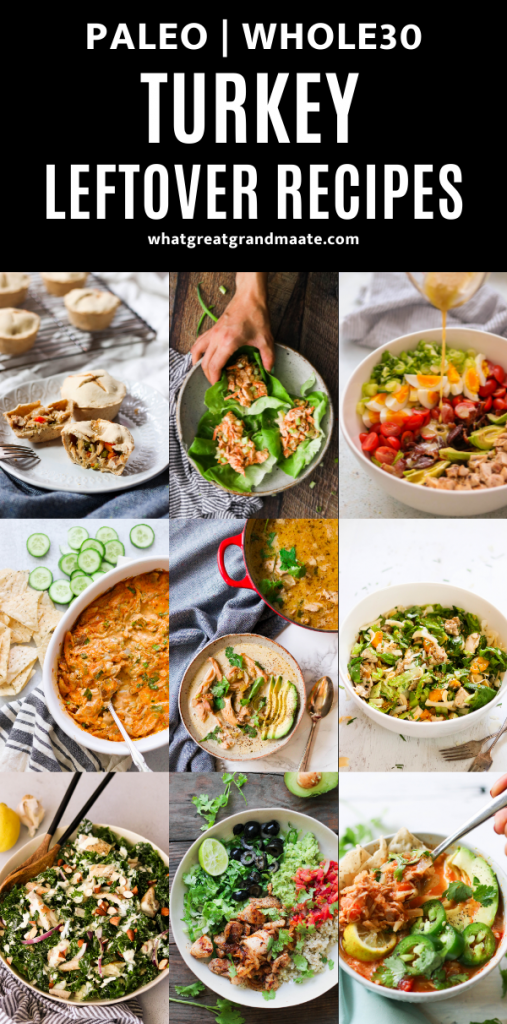 The day after Thanksgiving, many of us wake up with a packed fridge with all the leftovers. Many people love Thanksgiving food and can eat the leftovers for days. However, if you are like me, you may want to switch it up and repurpose the turkey in various ways.
Check out these gluten free dairy free leftover turkey recipes so you never get bored of eating the same protein for days! These recipes use chicken, but you can easily replace with the same ratio of cooked chicken.
Paleo & Whole30 Leftover Turkey Recipes
This recipe is a classic chicken salad made spicy and addicting with buffalo sauce! Just replace the chicken with the same amount of cooked turkey meat. It's actually one of my favorite keto and plaeo leftover turkey recipes that the whole family loves. Enjoy on its own, in lettuce wraps, with crackers, or on toast!
---
This kale caesar salad is made with massaged kale, toasted almonds, and onion, all covered in the best creamy Whole30 caesar dressing! It's perfect if you want to add in some healthy veggies after indulging a bit too much on Thanksgiving.
To substitute the meat with turkey, just replace the chicken with 1 cup of turkey meat and add it to the salad. You can skip the step of cooking the meat!
---
This is one of the most popular recipes on my blog and I'm not surprised. It's creamy, flavorful, and so comforting, with Mexican spices, veggies, and meat, simmered in coconut milk, broth, and diced green chili.
To replace chicken with turkey, add only the spices on step 3, skip step 4 (when you cook the chicken). Then, add cooked and shredded turkey meat at step 8.
---
This is one of the most versatile gluten free recipes for leftover turkey or just about any meat. The recipe calls for chicken or ground beef, but cooked turkey meat makes a perfect replacement.
For already cooked meat, just add all the spices to the turkey, then pan fry for 1-2 minutes to heat it up. Add any of the fixings you want, like cilantro lime cauliflower rice, lettuce, salsa, guacamole, olives, and plantain chips. You instantly have yourself a delicious and easy meal!
---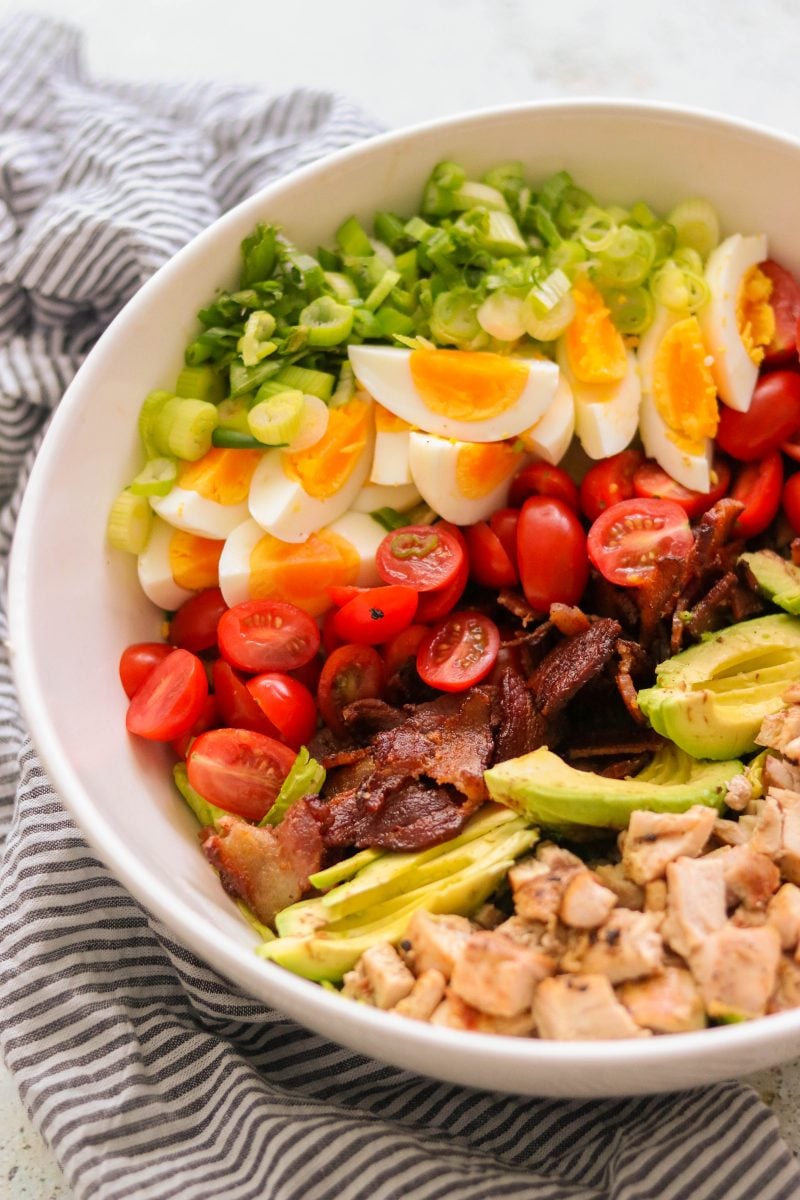 This keto and Whole30 cobb salad contains all the flavors you love in a classic cobb with a healthier twist! There's no cheese, but you won't miss it at all when it's chock full of bacon, avocado, hard boiled eggs, tomatoes, and green onions.
Just substitute cooked chicken with cooked turkey meat and you have a delicious and filling salad that's both creamy and crunchy at the same time!
---
These individual-sized chicken pot pies are delicious. The cassava flour crust is soft but sturdy, and the filling is made with veggies and cooked turkey meat (if you replace chicken). It does take a bit of time to shape and cut the dough, but the result is so comforting and yummy! Even kids love this fun-sized pot pies.
---
Always a crowd-favorite when I bring it to any gathering, this buffalo dip is one of my favorite keto and gluten free leftover turkey recipes. Since your turkey will be cooked already, it comes together very quickly and easily and it's a great way to use it up fast.
It requires 3 cups of cooked chicken, which you can directly replace with turkey. With hot sauce, mayo, and delicious combo of spices, you just need to mix all the ingredients together, bake, and you are done! To keep it low carb, serve with veggies like radish slices and celery.
---
Restaurant Mandarin salads are usually loaded with sugar, MSG, and other artificial ingredients. This version uses clean ingredients like sugar-free Mandarin oranges, coconut chips and slivered almonds instead of crispy noodles! It also features a delicious and naturally sweetened dressing made without inflammatory vegetable oils.
The original recipe requires 2 cups cooked and chopped chicken which you can easily substitute with turkey leftovers.
---
A classic chili with a twist. This easy and spicy buffalo turkey chili can be made in the Instant Pot or the slow cooker. It's chock full of veggies like cauliflower rice, onion, celery, and carrots, as well as flavorful spices like chili, cumin, coriander and more.
To replace the chicken in the recipe, just add about 2 cups of shredded turkey meat with the rest of the ingredients into the Instant Pot or the slow cooker. It'll still be tender and flavorful when melded with all the flavors after cooking. I highly recommend all the optional garnishes to add additional textures and flavors!
---
This is one my paleo and Whole30 leftover turkey recipes that I've made the most of in the past. It's always my go-to the week after Thanksgiving and my husband loves it too.
You can substitute chicken with 1 1/2 cups of cooked turkey meat, then add celery, carrot, onion, olives, mayo, apple cider vinegar, mustard, salt, and pepper. It couldn't be easier and tastes fantastic on toast or crackers!
---
Creamy spiced coconut curry sauce coating leftover turkey meat! It's a one pot dish that takes just 30 minutes to make so it's perfect when you are tired of cooking.
Just sub chicken with turkey, and you'll have a delicious, comforting meal you can serve with rice or cauliflower rice.
---
Crunchy, refreshing, and delicious, this better-than-takeout salad is packed with veggies and naturally sweetened with dates. It's so easy to make as well.
Just sub cooked chicken with cooked turkey and you'll have delicious and flavorful meal in no time!