Happy first day of Fall, all! It's true that I want to hold on to summer forever, but I do love me some Fall produce like pumpkin, squash, apples and pears so I'll accept the cooler weather (as if I have a choice…). But before starting the craze of all the Fall-appropriate recipes, I want to share a seriously delicious breakfast recipe with you all.
I'm not sure if you've ever had collard wraps before, but it's one of my favorite gluten-free and low-carb hacks. You basically use a raw collard green leaf as a substitute for a tortilla to make any kind of wrap you want. Collard green leaves are flexible, doesn't tear easily, and soft enough to chew raw, making it a perfect vehicle to roll up some delicious sandwich or burrito fillings in.
In order to use it as wrap, the best thing to do is lay it flat to shave off the stem that's sticking out so it's the same thickness as the leaf. Then, you just add the fillings, fold the sides, then roll it up like a tortilla. Sound simple, right? It really is!

One thing I sure do miss eating is a breakfast burrito, especially living in California. This collard wrap version is made with everyone's favorite breakfast items, eggs and bacon, and plenty of veggies to make it a healthy, sugar-free breakfast. If you don't love all the ingredients I added, feel free to leave them out or switch it up with the flavors and ingredients you like. This recipe is easily customizable, so you can change it up with whatever fillings that you are into or have on hand!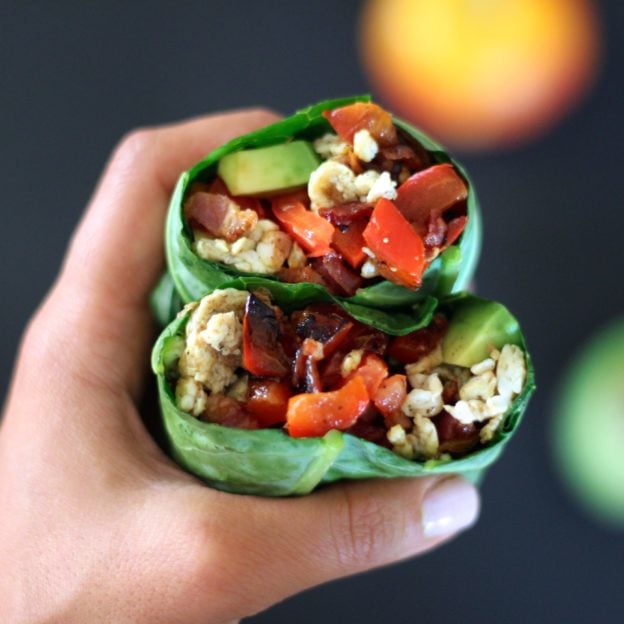 Ingredients
2

large collard green leaves

2

oz

bacon, chopped

1/2

cup

diced onions

1/2

red bell pepper, diced

2

large eggs

2

tbsp

of non-dairy milk (like coconut or almond)

1

tbsp

nutritional yeast

1/2 to

mato, seeded and diced

1/2

avocado, diced

Salt and pepper, to taste

Hot sauce (optional)
Instructions
Lay down the collard green leaves face down, and use a sharp knife to shave down the stems so it is the same thickness as the leaves (See picture in the post). Cut off the part of the stem that extends past the leaves. Set aside.

Preheat a skillet to medium heat.

Cook the chopped bacon on the skillet for about 5 minutes until they turn crispy, then transfer to a dish.

Leave 2 tsp of bacon fat in the pan, and set the rest aside.

Raise the heat to medium high, and cook the onions and the bell pepper in the bacon fat until they are softened, about 6-7 minutes. Season with salt and pepper and combine well with the cooked bacon.

In a small bowl, whisk the eggs with non-dairy milk, nutritional yeast, salt, and pepper.

Lower the heat to medium low and heat 2 tsp of the reserved bacon fat in the skillet (you can use butter or ghee, if there isn't enough).

Pour the eggs into the pan, and stir and scramble until cooked, about 3-4 minutes.

Assemble the wrap: Lay down a collard leaf, and place 1/2 of the bacon, onion, and bell pepper mixture on the middle of the leaf. Layer with 1/2 of scrambled eggs, 1/2 of diced tomato, and 1/2 of diced avocado. Season with hot sauce, if using. Fold the sides up to tuck, then start rolling like a regular tortilla. Finish by plating with the end of the leaf on the bottom of the wrap, so the roll holds together. Repeat with the other leaf and the rest of the prepared ingredients