Delicious grain-free and paleo taquitos are perfectly crunchy and delicious, and they make a quick, re-heatable weeknight meal!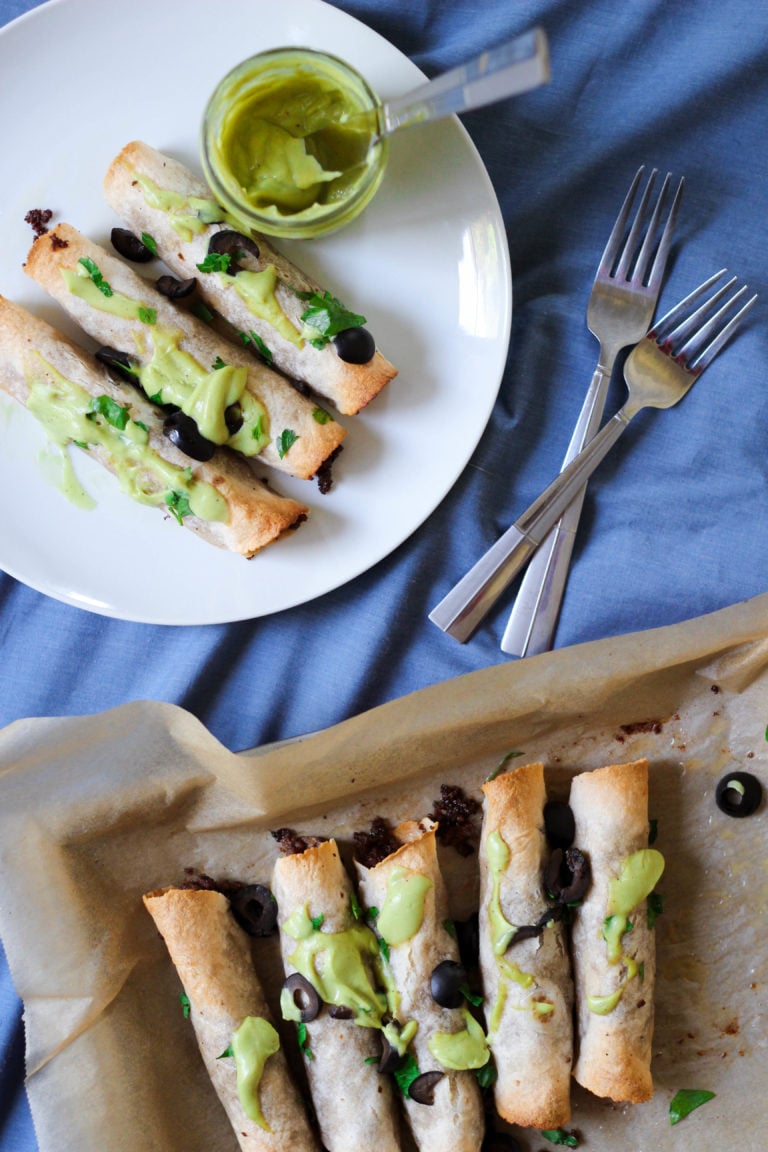 Well, the struggle is real. C and I (and the dogs, of course) are still in the middle of a move and we've basically been Airbnb hopping for what it feels like is forever. In reality, it's been a month and half, but it's been quite stressful. At least, we finally know what city we'll be moving to so I'm quite happy about that. I will reveal very soon where that is, so if you want to find out, the best thing to do is sign up for my newsletter because that's where I'll announce it first.
On top of that, I had to do my taxes this past week and what no one told me was that I shouldn't have ever started my own business if I hate doing taxes. Womp womp. It took 5 hours but it's done and I owe the IRS a crap ton of money, but I'm just glad that it's over with and I can move on with my life… until next year.
Can you tell it's been a rough week? After some of the longest days I've had, the last thing I wanted to do was spend an hour in the kitchen to make dinner. So my easy peasy solution? These delicious paleo taquitos!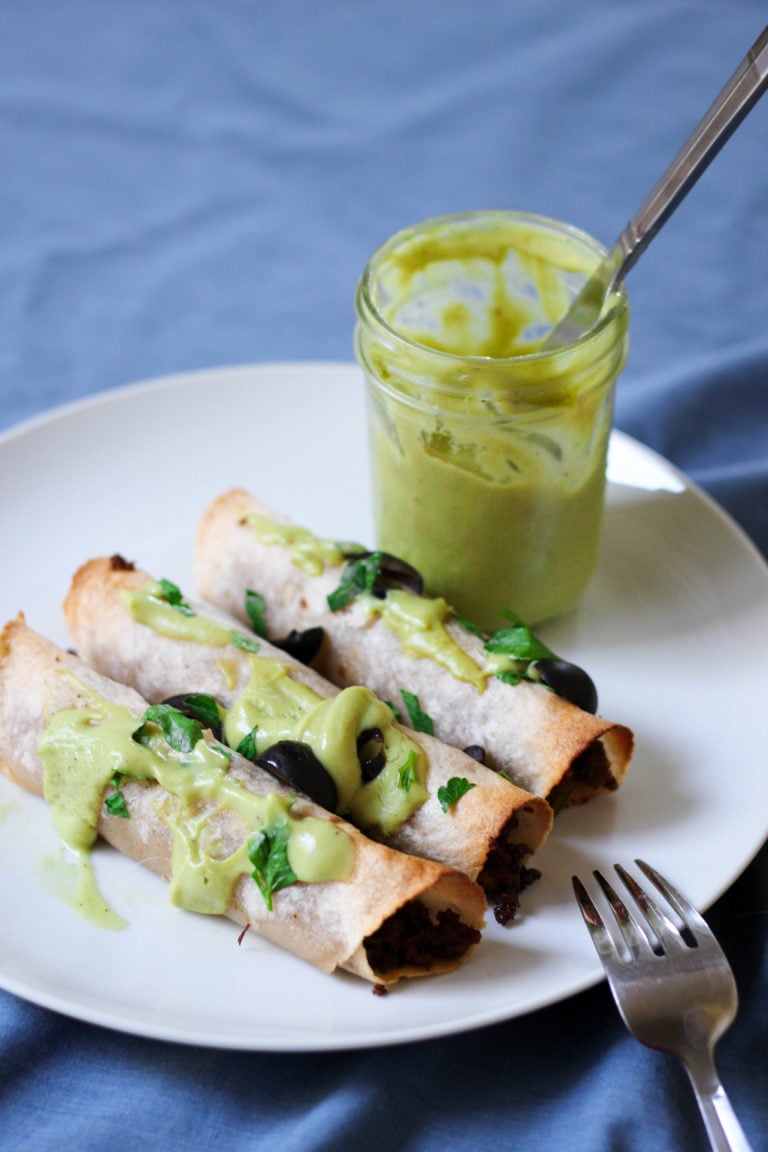 I think making things from scratch is wonderful, but sometimes, life takes over and you ain't got the time nor the energy for that. And thankfully, amazing companies like Siete Foods have made it so much easier to eat healthily with their high quality products with clean ingredients!
I've been obsessed with Siete Foods' grain free and paleo tortillas and tortilla chips, and not only are the tortillas pliable without falling apart, they are so delicious! I've been making tacos with their Cassava & Coconut Tortillas and even C says that he loves them. And he's very picky about his tortillas.
I was a bit nervous about making taquitos with them because I wasn't sure if they would crisp up nicely, but thankfully, these paleo taquitos turned out perfectly crunchy, and they made an easy re-heatable meal for a quick weeknight meal.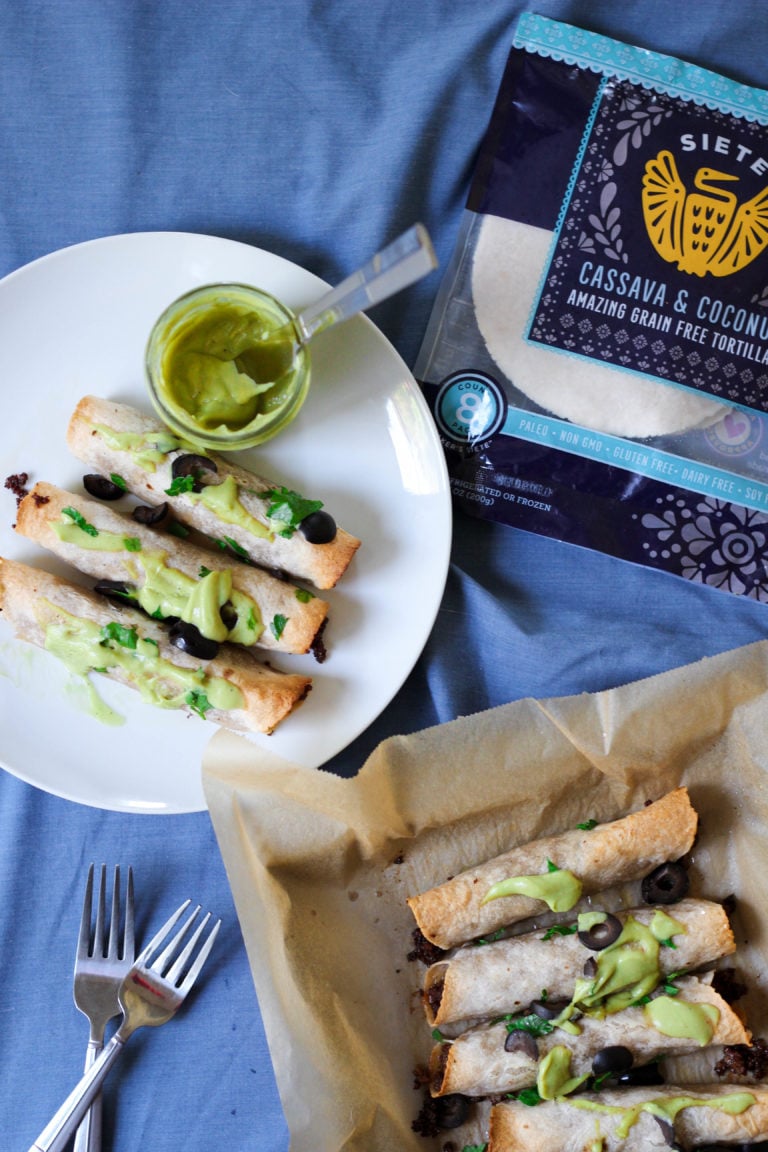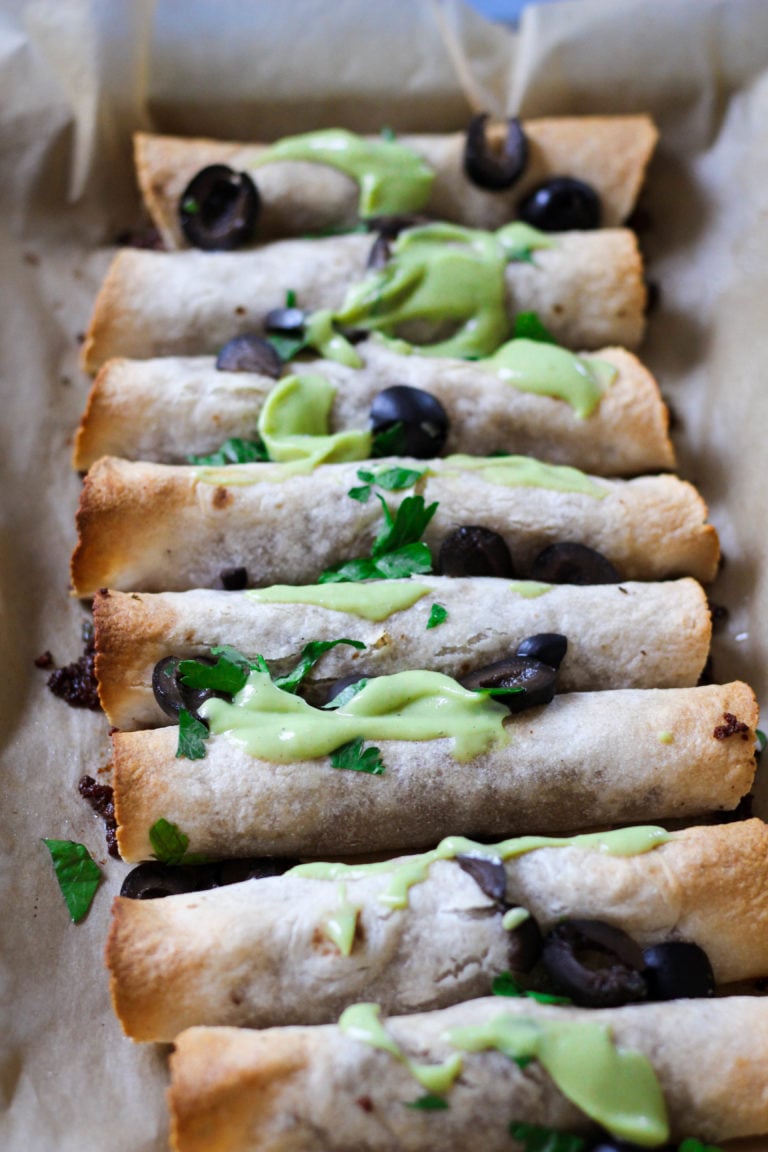 The only taquitos I remember eating in my life are the ones that you could buy at the freezer section. Do you remember them? My mom used to get us those all the time, and I loved them. Well, this grain free and paleo version taste so much better, if I do say so myself.
These paleo taquitos keep well in the refrigerator so I've been making a big batch, then reheating them in the oven for 10-15 minutes until they crisp up again for a quick, easy meal on a busy day. They've been a lifesaver for me this week. I hope you enjoy them as much as I did!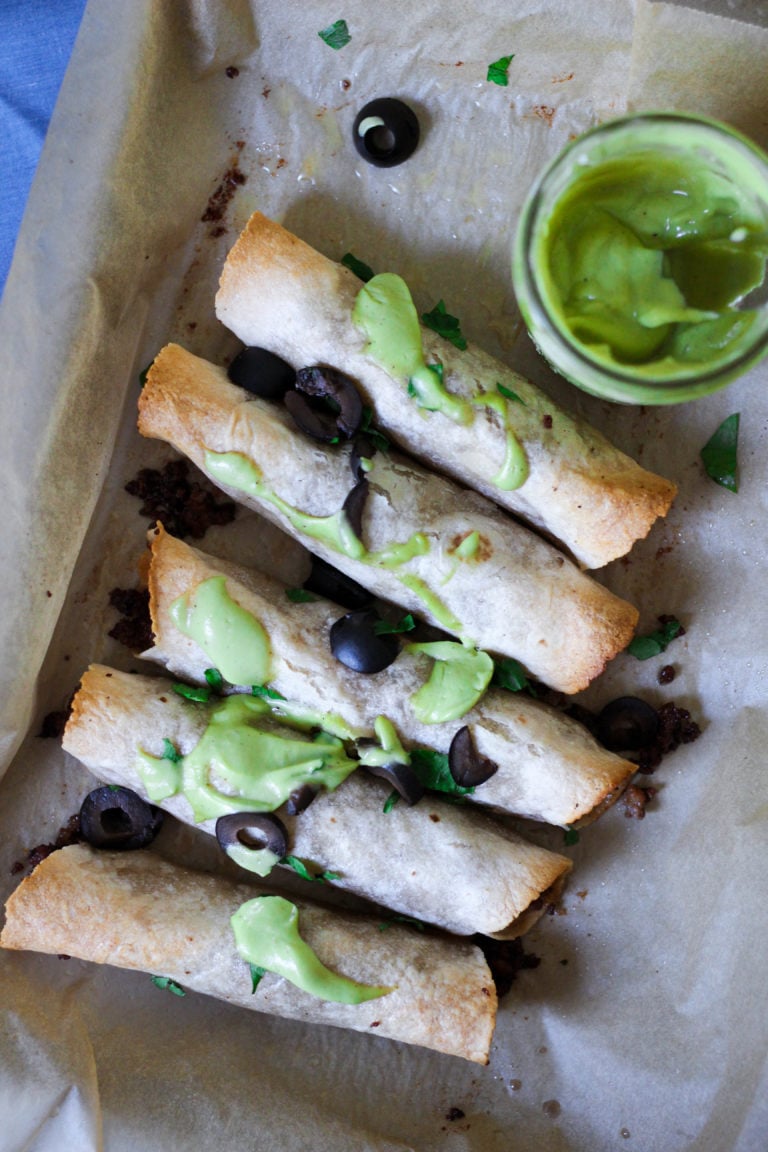 Grain-Free Paleo Taquitos
Delicious grain-free and paleo taquitos are perfectly crunchy and delicious, and they make a quick, re-heatable weeknight meal!
Print
Pin
Rate
Ingredients
1

tbsp

coconut oil, or cooking fat of your choice

1/2

onion, chopped

2

garlic cloves, minced

1

lb

grass-fed ground beef

2

tsp

ground cumin

2

tsp

chili powder

1/2

tsp

sea salt

1/2

tsp

garlic powder

1/2

tsp

dried oregano

1/4

tsp

onion powder

Optional: cilantro, mashed avocados, salsa, and/or slice black olives

for garnish
Instructions
Preheat oven to 400 degrees F. Line a baking sheet with parchment.

Heat 1 tbsp coconut oil in a skillet over medium high heat.

Add chopped onion and garlic into the to pan and cook until the onion is soft and translucent, about 3-4 minutes.

Add ground beef, cumin, chili powder, salt, garlic powder, oregano, and onion powder to the pan and cook while stirring and breaking up the meat until the beef is browned, about 5 minutes.

Microwave the tortillas for 30 seconds until they are warm and soft.

Add 3-4 tablespoons of the meat mixture into each tortilla and roll them up tightly into taquitos.

Place the taquitos on the baking sheet seem side down.

Bake for 20 minutes, or until the tortillas are golden and crispy.

Serve topped with your favorite sauce and toppings. I used my creamy lemon basil sauce from

this recipe

, and replaced basil with cilantro.
What Great Grandma Ate / Jean Choi is a participant in the Amazon Services LLC Associates Program, an affiliate advertising program designed to provide a means for sites to earn advertising fees by advertising and linking to Amazon.com.

Regarding other affiliate links and affiliate relationships: In order for me to support my blogging activities, I may receive monetary compensation or other types of remuneration for my endorsement, recommendation, testimonial and/or link to any products or services from this blog. Thank you for your support and understanding.
SaveSave
SaveSave