This traditional Korean radish kimchi recipe, or "kkakdugi" in Korean, easier to make than cabbage kimchi and it's ready to eat in just a day or 2. It's naturally paleo, Whole30, and keto, and you can easily make it vegan as well!
Besides the most well-known napa cabbage kimchi, there are actually many varieties of kimchi in Korea. Among all of them, kkakdugi is one of my favorites. Kkakdugi is a Korean radish kimchi made with Korean radish called moo. If you can't find moo, you can use daikon radish instead. It's crunchy, refreshing, and way easier to make than traditional kimchi.
Watch a Quick Video of This Korean Radish Kimchi
And subscribe to my YouTube channel for more cooking videos and other fun tutorials!
Kkakdugi – Korean Radish Kimchi Recipe
This kkakdugi recipe is naturally paleo, Whole30, and keto, and you can easily adapt to make it vegan friendly as well. This delicious kimchi is served as a side dish just like regular kimchi, and is most commonly eaten with rice.
Ingredients in This Paleo Kimchi
Although it might feel intimidating to attempt homemade kimchi, the ingredients in this kkadugi recipe are actually quite simple and easy to find.
Korean radish or "moo": If you are unable to find Korean radish, you can use daikon radish with the same results. They are very similar in flavor and texture. Check your local ethnic market for moo, but I've often seen daikon radish at regular grocery stores these days.
Sea salt: I used fine sea salt, but if you are using coarse, make sure to add more.
Garlic: All Korean kimchi are heavy on the garlic and you can't make kimchi without it.
Ginger: Another important flavor in this Korean radish kimchi recipe. It's subtle but necessary!
Green onions: Some people cut these into larger pieces, but I like to chop them small so they are incorporated evenly into the kimchi.
Gochugaru: This is Korean red pepper flakes used in a majority of Korean dishes. If you can't find it locally, you can order it online. Make sure to use coarse flakes to make homemade kimchi.
Fish sauce: A lot of fish sauce brand on the market have additives that you might want to avoid. I really love the Red Boat brand for the highest quality and flavor, and it's also paleo and Whole30-friendly.
If you are making vegan kimchi, you can substitute fish sauce for tamari sauce or soy sauce (if you are okay with gluten).
Equipments To Make This Kkakdugi Recipe
Plastic disposable gloves: I highly recommend these to mix the kimchi ingredients with your hands. The spices of the kimchi, especially gochugaru, can be very strong and stay on your hands for a long time. You'll also feel a tingly sensation on your hands if you don't use gloves, and it's not a pleasant feeling.
Airtight glass jar: This Korean radish kimchi recipe will yield about 8 cups, so I ferment it in an 64-oz jar like this one. However, if you only have smaller containers, you can divide the kkadugi into multiple jars as well.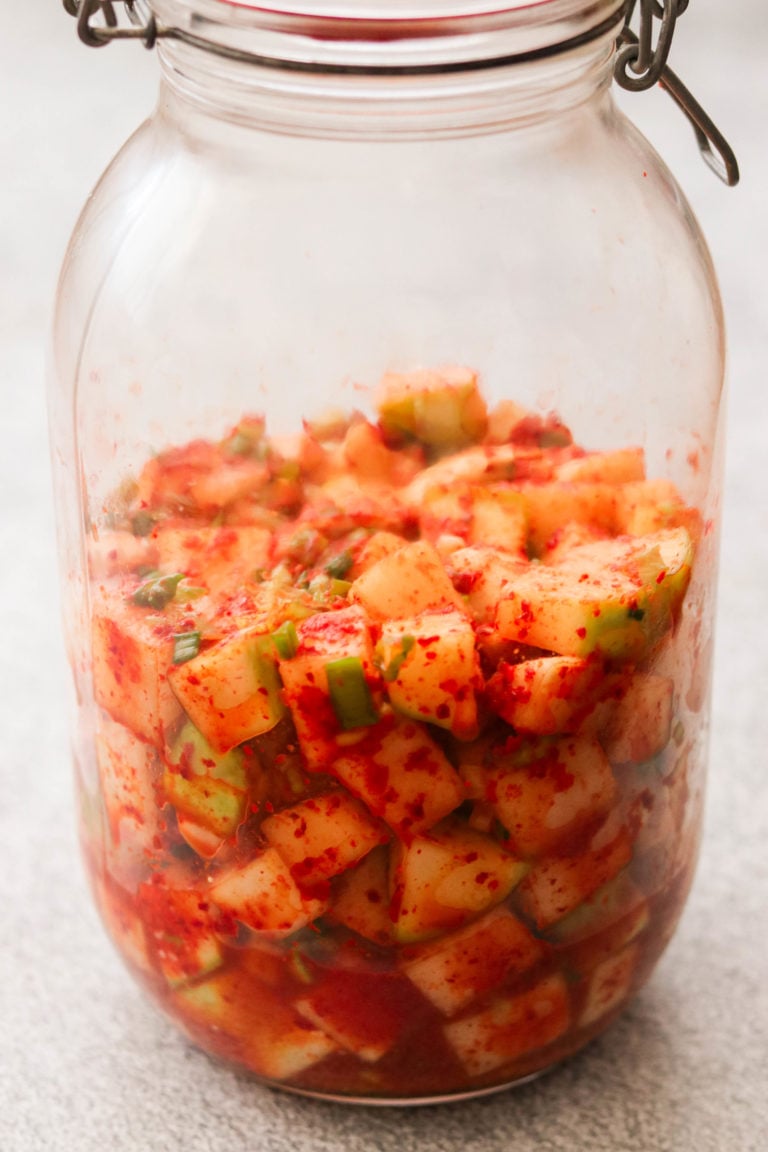 Adjust This Kkakdugi Recipe To Your Taste
What's wonderful about Korean radish kimchi (or any kind of kimchi) is that the flavors will vary widely depending on who makes it. Every household has its own flavor, additions, and version that it makes.
This Whole30 kimchi is not too spicy nor too salty. I created a goldilocks version to please all taste buds, but you can add more gochugaru to make it more spicy or fish sauce for a saltier flavor.
Also, I like my kimchi very sour and fermented, so I like to let this Korean radish kimchi ferment for the full 2 days. However, not everyone likes it that sour and if that's the case for you, you can ferment for just 1 day. It really depends on how you like it!
Why Don't You Use Sugar?
You'll see sugar as one of the ingredients in many store-bought kimchi and some use it in their homemade kimchi as well. However, I have found that there are plenty of natural sugars in the radish to allow the kimchi to ferment properly. If you like your kimchi on the sweeter side, feel free to add some before mixing the ingredients together.
However, if you are trying to make a keto and Whole30 kimchi, I recommend you leave out any sweetener to keep it compliant.
How Long Does This Korean Radish Kimchi Last?
Just like regular kimchi and many other fermented foods, this Korean radish kimchi will last indefinitely in the refrigerator. However, it'll still continuously ferment at a slow rate while chilled, so you may want to eat it within 3-4 months of making it. Otherwise, the flavor may get too sour for you to enjoy.
Other recipes you might love…
Kkakdugi – Korean Radish Kimchi (Paleo, Whole30, Keto, Vegan Option)
This traditional Korean radish kimchi, or "kkakdugi" in Korean, easier to make than cabbage kimchi and it's ready to eat in just a day or 2. It's naturally paleo, Whole30, and keto, and you can easily make it vegan as well!
Print
Pin
Rate
Servings:
32
servings (8 cups)
Ingredients
3

lb

Korean radish

or daikon radish

4

tsp

sea salt

5

cloves garlic

minced

1

inch

fresh ginger

grated

4

stalks green onions

chopped

1/3

cup

gochugaru

Korean red pepper flakes

1/4

cup

fish sauce

or tamari sauce for vegan
Instructions
Rinse the radish and cut off any small hairs on the skin. You can also peel the skin, but I like to leave it on. Cut the radish into bite-sized cubes and put them in a large mixing bowl.

Sprinkle with sea salt and toss together to coat. Let this rest for 30 minutes so the radish can sweat out its juice and soften. Drain out the juice.

I highly recommend you wear plastic gloves before this step: Add the garlic, ginger, green onions, gochugaru, and fish sauce. Mix everything well with your hands so the spices are evenly coated.

Taste to add more gochugaru or fish sauce, if needed. Keep it mind that the kimchi will get saltier as it ferments.

Transfer to a glass jar with an airtight lid, pressing down firmly with your hand as you pour it in so the mixture is compact in the jar and there are no air bubbles. Make sure the top of the kimchi is at least 2 inches below the opening of the jar.

Close the lid and let it sit at room temperature out of sunlight for 24 to 48 hours while it ferments. Check after 24 hours.

It's ready when you open the lid and you see small bubbles escaping off the top and the kkakdugi has a strong, sour smell. You can also taste to check to see that it has fermented to your liking.

Store in the refrigerator and eat it with everything! It will keep well for longer than a year, but you may want to eat it within 3 to 4 months before it gets too sour.
Nutrition Facts
Kkakdugi – Korean Radish Kimchi (Paleo, Whole30, Keto, Vegan Option)
Amount Per Serving (1 serving – about 1/4 cup)
Calories 17
Calories from Fat 9
% Daily Value*
Fat 1g2%
Sodium 483mg21%
Potassium 156mg4%
Carbohydrates 3g1%
Protein 1g2%
Vitamin A 746IU15%
Vitamin C 10mg12%
Calcium 22mg2%
Iron 1mg6%
* Percent Daily Values are based on a 2000 calorie diet.
Video
What Great Grandma Ate / Jean Choi is a participant in the Amazon Services LLC Associates Program, an affiliate advertising program designed to provide a means for sites to earn advertising fees by advertising and linking to Amazon.com.
Regarding other affiliate links and affiliate relationships: In order for me to support my blogging activities, I may receive monetary compensation or other types of remuneration for my endorsement, recommendation, testimonial and/or link to any products or services from this blog. Thank you for your support and understanding.