What an amazing weekend I just had! I got back on Sunday from Portland, after attending the 3-day Nutritional Therapy Association Conference, where I learned SO much about nutrition, business, and much more from prominent figures in the holistic health industry. It was so good to connect with like-minded people and seeing my classmates who graduated as NTPs with me. Although it was such a great experience, it was also super tiring attending talks and workshops all day long. I didn't really get to see much of Portland which I'm pretty sad about, but that just means I gotta go back to get the full experience I missed!
The day after I got back, C left to go to NYC for work, so we haven't been seeing much of each other in the past week. However, one good thing that comes out of that is I get to cook all the things that he hates and I love. Like eggplants! 
As someone who can't eat gluten and dairy, the one thing I miss is ALL THE LASAGNA. That cheesy gooey yumminess has been what I've been craving recently. Of course, when cravings hit, I must feed it… but in a healthy way! Using cashews for cheese and eggplants to create layers actually worked out surprisingly well to imitate the flavors of real lasagna, and I enjoyed this dish a bit too much. Since I don't usually cook with eggplants at home because C's not a fan, it was like I was making up for lost times and just kept eating and eating this stuff. Like, it was hard to breathe after (I'm so embarrassing). No regrets though, it was so good and totally worth it!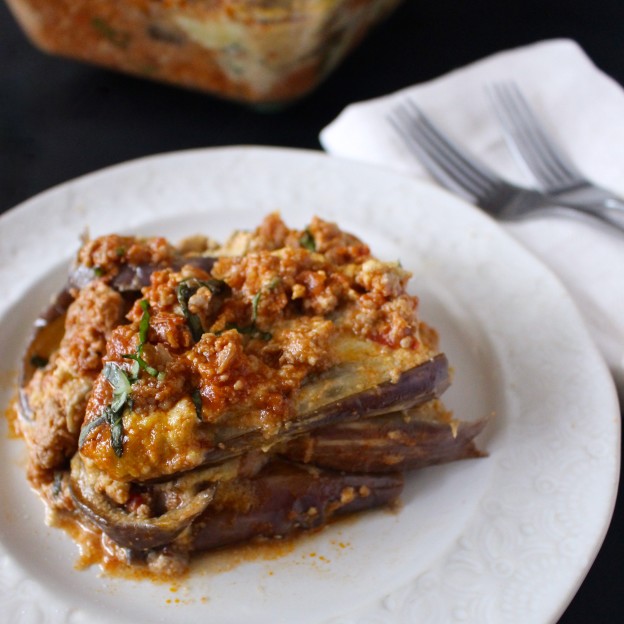 Ingredients
Eggplant lasagna
2

eggplants, cut lengthwise into 1/4 inch thick slices

1

tbsp

avocado oil

1

tbsp

ghee

1

lb

ground turkey

2

garlic cloves, minced

1.5

cups

sugar-free marinara sauce

1/3

cup

packed fresh basil leaves, torn into small pieces.

Sea salt, to taste
Instructions
Cashew cheese
Drain the soaked cashews and place in the food processor.

Add the rest of the ingredients and blend until thick and creamy.
Eggplant lasagna
Heat up the broiler.

Brush both sides of the eggplant slices with avocado oil and sprinkle with sea salt.

Place eggplant slices on a broil safe baking sheet and broil for 8 minutes, flipping them half way through.

Take out the eggplants and lower the oven to 350 degrees F.

Heat ghee in a a saucepan over medium high heat.

Add ground turkey, garlic, and salt in the saucepan, stirring until the turkey is browned.

Add marinara sauce into the saucepan, lower the heat, and let it simmer for 10 minutes.

Remove from heat and stir in basil leaves.

Spread out 1/4 of the turkey marinara sauce evenly at the bottom of a 8x8 baking dish.

Take 1/3 of the eggplant slices and add a layer on top of the sauce, having the edges overlap.

Spread 1/3 of the cashew cheese on top of the eggplants.

Repeat these layers 2 more times, then top with remaining turkey marinara sauce.

Bake for 30 minutes until the lasagna is bubbling.

Let it cool for 10 minutes before serving.