I've been loving daikon radish recently. My favorite way to eat them is in their raw, fermented form in kimchi, but they can be baked, sauteed, shredded in salads, or even be eaten straight-up raw dipped in guacamole like carrots.
My recent discovery was that they spiralize beautifully and can replace noodles in most noodle-containing dishes. However, I grew up eating daikon in Korean dishes, so I think they are the most appropriate in Asian cuisines. 
Creating this recipe was a thoughtless process that came together as I started putting in my favorite stir-fry ingredients. I feel like that's how most great dishes are made: just going with your taste buds and gut. It's a quick and simple meal that tastes flavorful and expensive, which I can always get behind. It's ideal for any low-carbers, gluten-fearers, or just daikon radish lovers, which should cover most of you (especially the last one even if you may not know it yet).
Question of the day: If zucchini noodles are called zoodles… then can I call these doodles?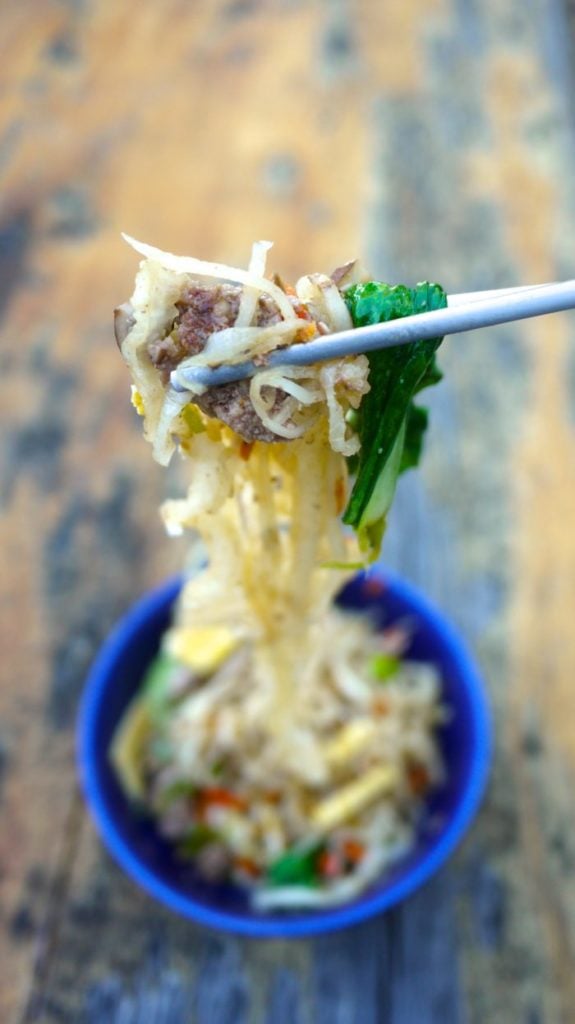 Ingredients
1

lb

daikon radish

1

tsp

salt

2

eggs

2

tsp

coconut oil

1/2

lb

grass-fed ground beef

2

medium carrots, grated

4

oz

mushrooms, chopped

1

head bok choy, cut in half separating the stem portion from the leaves

2

tbsp

gluten-free tamari sauce or coconut aminos

2

tsp

fish sauce

1

tsp

miso

1

tbsp

sesame oil

2

green onions, chopped

Sesame seeds

Salt and pepper, to taste (omit pepper if avoiding nightshades)
Instructions
Using a spiralizer or a vegetable slicer, slice the daikon radish into noodles and put in a bowl.

Salt the daikon radish noodles and toss evenly, and let it sit for 30 minutes.

In the meantime whisk the eggs.

Heat a tsp of coconut oil to medium high heat in the heavy bottomed skillet.

Pour the whisked eggs so they spread out into a thin layer. Sprinkle salt and pepper.

Cook for about 3-4 minutes, then flip it over, and cook for another 3-4 minutes.

Transfer to a cutting board and and slice the eggs thinly into 1/4 inch strips.

Cut them again so each strip is about 2 inches long. Set aside.

In a small bowl, whisk together tamari sauce, fish sauce, and miso until the miso breaks down evenly into the mixture.

Heat another tsp of coconut oil into the heated pan.

Add the grated carrots and chopped mushrooms into the pan, add a pinch of salt, and cook for 3 minute until they soften.

Add the stem part of the bok choy to the pan and stir fry for a another 3 minutes.

Once the bok choy stems soften, add ground beef with a sprinkle of salt and pepper, breaking it up as it cooks through.

When the beef browns up, lower the heat to medium and add tamari-miso sauce and the top leaves portion of the bok choy.

Go back to the daikon radish noodles. They should have softened up at this point and sweated out quite a bit of water. Squeeze out and discard the water from the noodles.

Add the noodles into the pan with beef and vegetables, and cook while stirring for 3-4 minutes.

Remove from heat, and add a tbsp of sesame oil and stir together.

Plate the noodles, and garnish with a sprinkle of sesame seeds and chopped green onions.