Prepare portable pies that you can have while on the go with this Paleo Strawberry Hand Pies recipe. These sweet paleo-friendly treats are satisfyingly sweet and so simple to make!
If you are a pie fan with a delicious flaky crust, I think you'll love these paleo hand pies with strawberry filling. Not only are these super cute and fun, they are so delicious with a sweet burst of strawberries with every bite. They are the perfect summer treat to have on hand, but you can make them any time of the year with frozen strawberries.
What Is a Hand Pie?
A hand pie is a miniature version of a traditional pie. While most pies are large and need to get sliced before serving, hand pies are small, portable, and great to have on the go. They are also great because they come in an individual portion sizes. These pies come in different varieties with various fillings. Some pieces are savory, while others are sweet and might even have a glaze added to them.
Ingredients Needed for These Paleo Hand Pies
If you want to make Paleo Strawberry Hand Pies, make sure you have the right ingredients to prepare the filling and the crust. When preparing the crust, you will need:
Arrowroot starch: You can also use tapioca starch for similar results.
Coconut flour: Makes a delicious and flaky base for your crust.
Cold butter: You can use palm shortening if you are dairy sensitive.
Egg: Pulse your egg in your food processor with butter and flour. You'll need another one for the egg wash.
Maple syrup: You can also use honey if that's what you have on hand.
You will also need water, sea salt, and arrowroot starch for the crust. When preparing the filling, you will only need strawberries, coconut sugar, and lemon juice. These three ingredients will leave you with a sweet and tasty filling.
Where to Find Coconut Sugar
You should have no problem finding coconut sugar at your grocery store. If you are unable to find it at your usual store, you can always get it from Thrive Market or just use white sugar You only need a little for these paleo hand pies, so the bag that you purchase will last a while, and you can continue using it in other paleo-friendly recipes.
Can I Use Frozen Strawberries?
While fresh strawberries are great to use when preparing the Paleo Strawberry Hand Pies, you can always use frozen strawberries. Be sure to chop the strawberries into small pieces before you combine them with lemon juice and coconut sugar.
Can I Use Any Other Fruits?
Sure, you can use other fruits. You can use other types of berries, such as raspberries, blackberries, or blueberries. Just combine them with coconut sugar and lemon juice, just like you would with the strawberries. You can even experiment with using a combination of different fruits with this hand pie recipe.
How Many Pies Does This Recipe Make?
You will have six strawberry hand pies to enjoy after following this recipe. If you would like to make a dozen hand pies, double the recipe for both the filling and crust.
How Long Does It Take to Prepare the Paleo Strawberry Hand Pies?
It will take around 15-20 minutes to prepare your filling and dough and then assemble the pies. Once you have them assembled, you will need to allow the hand pies to bake for about 35 minutes. You will have these Paleo Strawberry Hand Pies hot, fresh, and ready to eat in about an hour.
Working With Paleo Pie Crust
This grain free pie crust is more fragile than regular crust made with all purpose flour. Make sure to use a spatula to lift the crust after you cut it, and be gentle when crimping and cutting before you put the paleo hand pies in the oven. If the dough rips while working with it, you can easily fix it using your hands.
How to Store Paleo Strawberry Hand Pies
Place the baked and cooled paleo strawberry hand pies in a food storage container. You do not have to store them in the refrigerator, but doing so will make them last a bit longer. If you leave them out at room temperature, your pies should stay fresh for two days. They can last up to five days in the fridge.
Can I Freeze the Hand Pies?
Yes! you can store the paleo strawberry hand pies in the freezer to keep them fresh even longer. Wrap them in parchment paper, seal them with tape, and put them in a large container or freezer bag. Seal the bag shut and put the pies in your freezer for up to three months. You can thaw them right in your fridge for a few hours.
If you enjoyed these paleo hand pies, you might also like…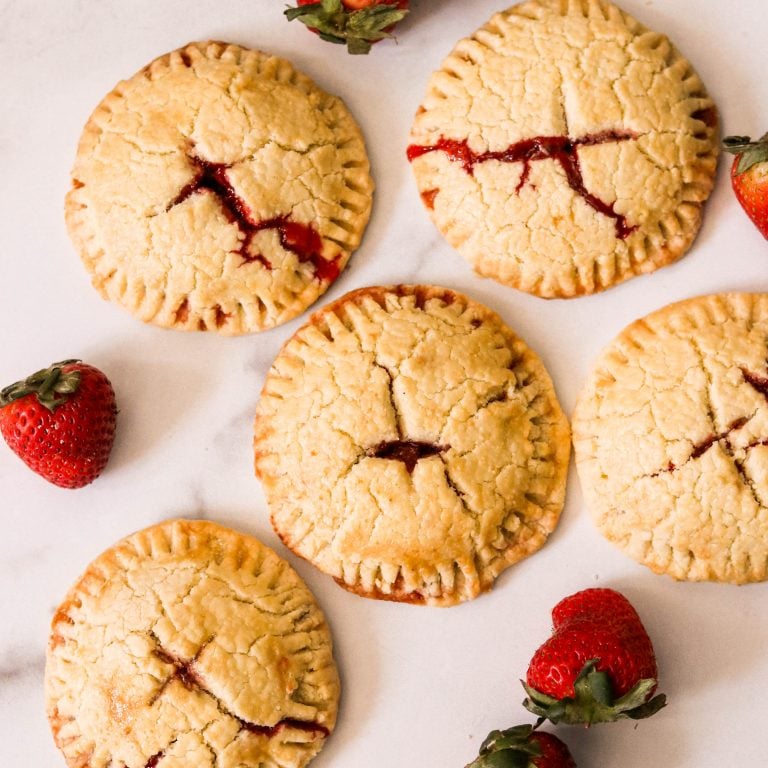 Paleo Strawberry Hand Pies
Prepare portable pies that you can have while on the go with this Paleo Strawberry Hand Pies recipe. These sweet paleo-friendly treats are satisfyingly sweet and so simple to make!
Print
Pin
Rate
Instructions
Combine chopped strawberries, coconut sugar, and lemon juice in a saucepan and heat over medium heat. Simmer for 5-10 minutes until broken down and thickened. Place in the refrigerator to cool while you work on the crust.

Preheat the oven to 350 degrees F.

Add arrowroot starch, coconut flour, salt, cold butter, maple syrup, and an egg to the food processor. Pulse until you can pinch into a dough. If it's too dry, pulse in water 1 tablespoon at a time.

Sprinkle some arrowroot starch on parchment paper and place the dough on top. Place another parchment paper over the dough, and roll it out until the dough is about ⅛-¼ inch thick.

Using a circle cookie cutter 2¾ inch in diameter (or a mason jar ring), cut out 12 circles. You can re-roll the scraps until you have 12.

Add a tablespoon of the strawberry filling each to the center of 6 circles. Place the remaining circles on top, sealing the edges gently with your fingers. Use a fork to crimp the edges.

Cut out an X on the top to help release steam.

Whisk an egg in a small bowl, and brush the egg wash on top of the hand pies. Transfer the hand pies and the parchment paper to a baking sheet.

Bake for 30-35 minutes, until the tops of golden brown. Cool completely before serving.
Nutrition Facts
Paleo Strawberry Hand Pies
Amount Per Serving (1 hand pie)
Calories 286
Calories from Fat 162
% Daily Value*
Fat 18g28%
Cholesterol 95mg32%
Sodium 223mg10%
Potassium 86mg2%
Carbohydrates 31g10%
Protein 3g6%
Vitamin A 556IU11%
Vitamin C 21mg25%
Calcium 19mg2%
Iron 1mg6%
* Percent Daily Values are based on a 2000 calorie diet.
What Great Grandma Ate / Jean Choi is a participant in the Amazon Services LLC Associates Program, an affiliate advertising program designed to provide a means for sites to earn advertising fees by advertising and linking to Amazon.com.
Regarding other affiliate links and affiliate relationships: In order for me to support my blogging activities, I may receive monetary compensation or other types of remuneration for my endorsement, recommendation, testimonial and/or link to any products or services from this blog. Thank you for your support and understanding.