Learn how to make soothing and nourishing homemade beeswax lip balm (Burt's Bees copycat) that's made with natural and toxin free ingredients!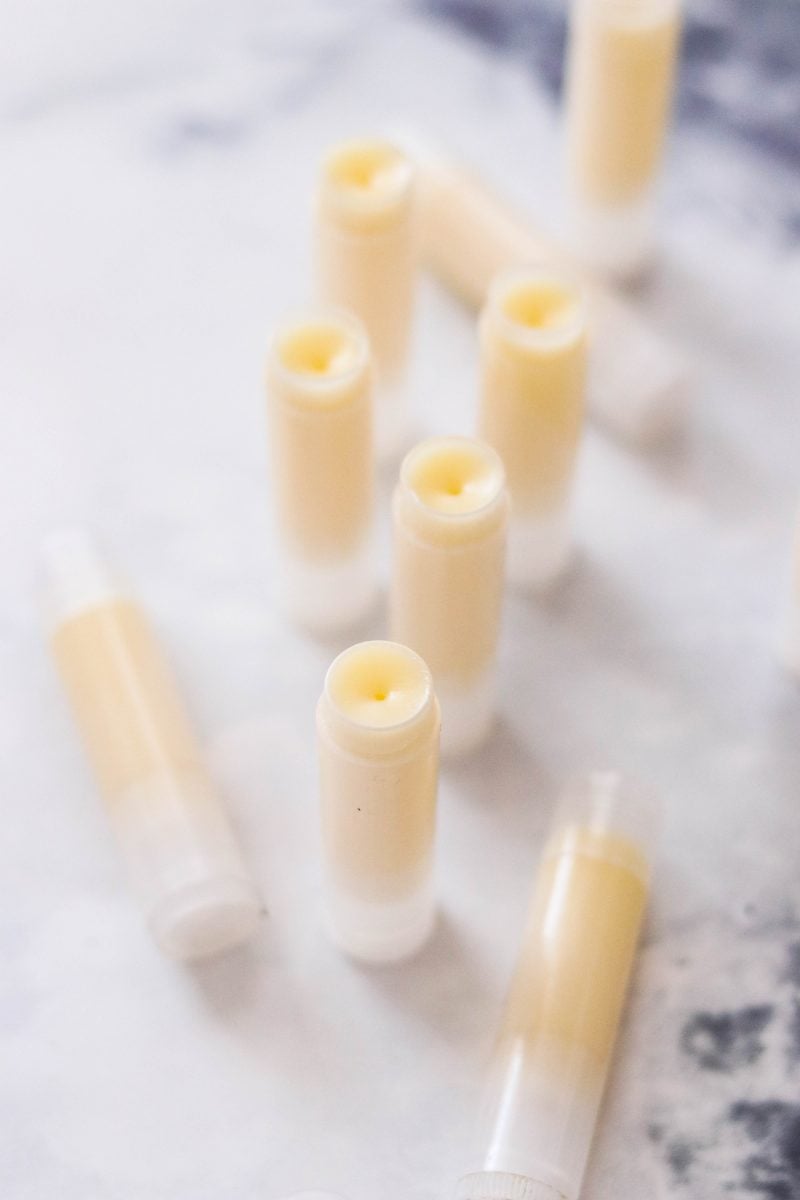 A good lip balm is one of those must-have items for me. I have dry skin and have always had trouble with chapped lips along with it. I think I might have a lip balm in every room of my house, as well as in my car. Trust me, it's necessary.
Homemade Beeswax Lip Balm Recipe
I've been making my own homemade beeswax lip balm for about 3 years now and I love it so much. Not only does it smell amazing (peppermint, always), but it's actually so nourishing and effective. I used to use Burt's Bees lip balm all the time, but I actually prefer my version better and it also makes a great gift as well!
With a soothing combination of shea butter, beeswax, coconut oil, and peppermint essential oils (or whatever scent you like), this homemade beeswax lip balm is so easy, costs pennies, and takes less than 15 minutes to make.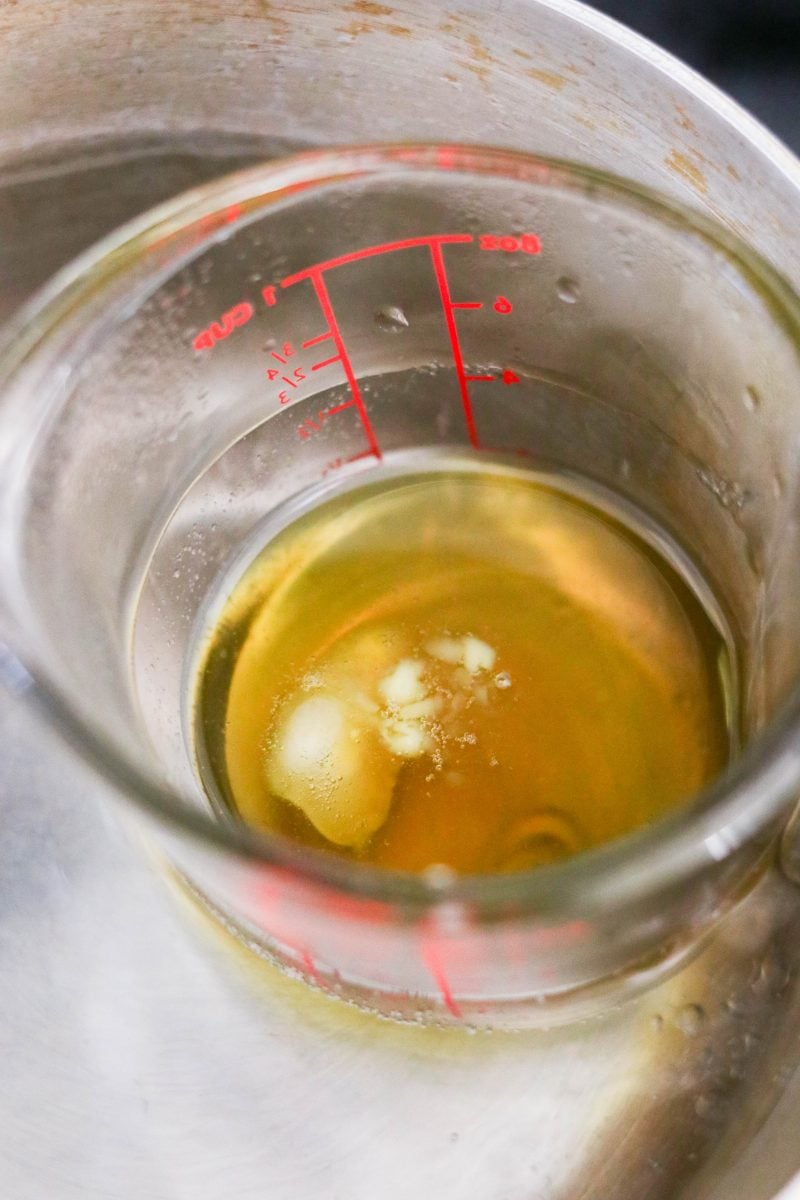 5 Harmful Ingredients in Conventional Lip Balm
I actually started making my own homemade beeswax lip balm after learning about some shady ingredients in drug store versions that are known to cause a host of health issues. It's especially important to be aware of these ingredients because we are putting these products on our lips and we can easily consume them!
These are some common ones to watch out for and avoid:
Parabens (also known as other ingredients that end in -paraben like methylparaben and butylparaben): Used as a preservative, parabens are widely recognized as endocrine disruptors. They are known to increase the risk of breast cancer and other reproductive issues.
Petroleum jelly: Yes, the main ingredient in Vaseline! Petroleum jelly is a highly refined oil made from fossil fuel. Not only does it block our pores, it also contains carcinogens and chemicals known to cause estrogen dominance.
Synthetic colors and dyes: These are especially common in tinted lip balms. Synthetic colors are composed of heavy metals that cause allergies and irritation, and if accumulated for a long time, are even known to cause cancer!
Chemical sunscreens (also labeled as avobenzone, homosalate, oxybenzone, octinoxate, octisalate, and octocrylene): All of these chemicals help the sunscreen be absorbed in our skin fast, especially when our skin is exposed to sunlight. They are estrogen mimickers and are associated with endometriosis in women and lower sperm count in men. If you want a lip balm with SPF in it, look for ones with non-nano zinc oxide instead.
Fragrance or flavor: Companies are not legally required to disclose what chemicals make up "fragrance" or "flavor" on ingredients labels. Those words can mean absolutely any chemical, whether or not it has been tested for safety. Usually, it is a synthetic concoction that includes phthalates and synthetic musks, which are known hormone disruptors.
Don't Want to Make Your Own?
There have been times that I've been busy or lazy and ran out of my homemade beeswax lip balm. In those cases, I ended up buying safer option that are free of the above toxins. Here are my favorite brands that smell amazing without chemical fragrances and work really well:
Beautycounter's Lip Conditioners: Beautycounter is probably my favorite skin care company that has banned over 1500 ingredients that are known or suspected to be harmful in their products, when the US has only banned 30. Their lip conditioners come in peppermint or calendula and these products are so soothing and hydrating with clean ingredients! If you are looking for something that's tinted or has a light color, I highly recommend their sheer lipsticks

which are also made with coconut oil and are extremely moisturizing.

Primally Pure Lip Balm: Primally Pure has amazing, natural lip balm made of all the soothing oils like coconut, beef tallow, and beeswax. They come in 5 different flavors, scented with organic essential oils, and the peppermint is my favorite. You can get 10% off your first purchase with them with code: JEAN10.
Perfect Supplements Lip Nutrients: These come in 2 flavors, lemongrass and tangerine, and I prefer tangerine. These contain all organic ingredients that nourish you lips you coconut oil and beeswax, along with jojoba oil, essential oils, and vitamin E. You can get 10% off with my code: GREATGRANDMA10. 
Perfect as Gifts!
If you are wondering what to get for someone special in your life, or if you are looking for stocking stuffers for the holidays, I highly recommend these homemade beeswax lip balm, because there's nothing better than homemade gifts. I've gifted them myself before and all the recipients have told me that they love them. My mom actually insists I make her 20-30 of them every year so she can use them throughout the year. Good thing they are so easy to make!
Because these do not contain any water or moisture and only healthy oils, they actually last indefinitely so you don't have to worry about them spoiling or going bad!
Homemade Beeswax Lip Balm Recipe (All-Natural and Toxin Free!)
Makes 18 lip balm tubes
Ingredient
1/4 cup

beeswax pastilles

or (beeswax block, grated)
1/4 cup

shea butter

1 tbsp coconut oil
40 drops peppermint essential oils* (about 1/2 tsp)
Instructions
In a double boiler, or a heat-safe bowl nestled on top of a pot of simmering water over medium low heat, combine beeswax pastilles, shea butter, and coconut oil.
Heat for about 10 minutes until the mixture is completely melted.
Remove from heat and stir in peppermint essential oils.
Pour the mixture into a glass cup or a measuring cup with a spout.
Carefully pour into the empty lip balm tubes and fill them up to the top.
Let them cool for 30 minutes before putting on the cap.
Notes
If you don't like the peppermint flavor, you can use other essential oils like grapefruit or lavender. Avoid them altogether if you prefer unscented!
What Great Grandma Ate / Jean Choi is a participant in the Amazon Services LLC Associates Program, an affiliate advertising program designed to provide a means for sites to earn advertising fees by advertising and linking to Amazon.com.

Regarding other affiliate links and affiliate relationships: In order for me to support my blogging activities, I may receive monetary compensation or other types of remuneration for my endorsement, recommendation, testimonial and/or link to any products or services from this blog. Thank you for your support and understanding.