Craving a sweet treat that you can eat for breakfast or dessert? Try this unique and delicious Paleo Baked Churro Donuts recipe with coconut sugar and cinnamon.
I've always been a huge fan of sweet and crispy churros. My parents used to occasionally treat us with those huge versions from Costco, and I even had a churro cart at our wedding which was a hit. With all the gluten, sugar, and inflammatory oils, however, they are not worth how I feel after eating them anymore. BUT that doesn't mean I can't make delicious paleo churro donuts at home that are baked and not fried!
Baked Churro Donuts Recipe
Are you in the mood for the sweet and fluffy taste of traditional donuts? If you are paleo or gluten free like me, you know that traditional donuts are off the menu because of the excessive amount of traditional sugar and flour in them. If that's the case, you can prepare these paleo baked churro donuts recipe consisting of grain free flour, maple syrup, baking soda, coconut sugar, and several other ingredients. It really doesn't take long for you to make these delicious paleo donuts from scratch and enjoy them.
Which Type of Flour Do I Need to Use?
You will need to use two types of flour to prepare these homemade baked donuts. Both almond flour and coconut flour combined will create an excellent flavor for the donut dough. When baked together, they create an amazingly fluffy texture that's so delicious and addicting! I can't recommend any other substitutions for these paleo donuts.
How Do I Apply the Cinnamon Sugar Topping to the Donuts?
Melt the ghee and then brush the top of each baked churro donut. Afterwards, you can combine your coconut sugar with the cinnamon and dip the donuts into the mixture to give your donuts that perfectly sweet and cinnamon-y taste.
Do I Have to Use Coconut Sugar?
Coconut sugar is a great paleo-friendly choice for these homemade baked donuts and gives that yummy slightly crunchy texture of churros. If you do not have coconut sugar or you aren't paleo, you can just use white sugar as an alternative ingredient. Brown sugar will also taste great when combined with the cinnamon.
How Long Will It Take to Make the Paleo Baked Churro Donuts?
It really doesn't take too long for you to prepare the baked churro donuts. It will take roughly 10-15 minutes to prepare the dough, add it to a piping bag, and create your donuts. Once the dough is in the donut pan, you will need to bake the donuts for 18-20 minutes before removing them, applying the ghee, and then dipping them in the cinnamon and coconut sugar mixture. You should have these wonderful donuts in about 30 minutes. You can eat them fresh out the oven while they are still warm, too!
Will I Need Special Equipments to Make the Donuts?
You won't need special equipments to make the paleo baked churro donuts. All you need are two large mixing bowls to combine your ingredients, donut molds (I used these), and a piping bag to prepare these donuts from scratch. If you do not have a piping bag, you can add the batter to a resealable bag, and then cut the tip of it off to create a homemade piping bag that works just as well.
Can I Store the Paleo Baked Churro Donuts?
The homemade baked donuts taste best when consumed while they are still fresh from the oven. However, you can store them and save them for about three days. If you want to do that, place them in an airtight container and put them in the refrigerator. You can warm your donuts up by heating them in the microwave or just enjoy them cold.
What Can I Do with the Paleo Baked Churro Donuts?
You can eat these donuts for breakfast or a snack. They are great to have when you are in a rush and need something tasty and portable. You can even drizzle frosting or add whipped cream to the donuts to add even more flavor and texture!
If you enjoyed this paleo baked churry donuts, you might also like…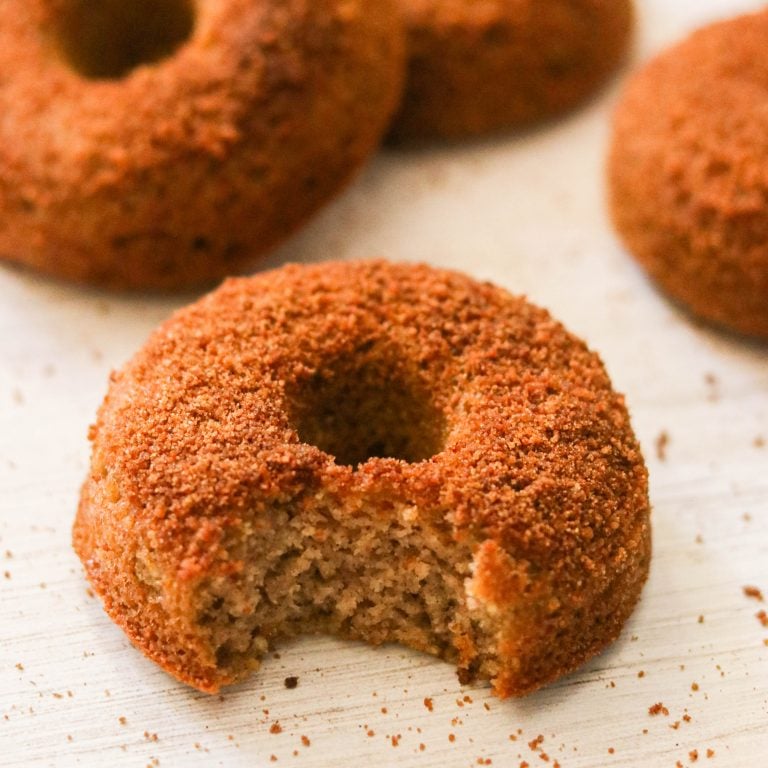 Instructions
Preheat oven to 350 degrees F and grease a donut pan.

In a bowl, combine almond flour, coconut flour, cinnamon, baking soda, and sea salt, and mix together.

In a large separate bowl, whisk together maple syrup, coconut milk, ghee, and eggs.

Slowly pour dry ingredients to wet ingredients and whisk together to mix.

Place the batter in a piping bag, or a plastic resealable bag with the corner snipped off.

Pipe into 10 donut molds so they are about 3/4 way full. Tap the pan on the countertop a few times to remove air bubbles.

Bake for 18-20 minutes, until the edges of the donuts are browned.

Cool for 5 minutes, then transfer to a cooling rack.

Mix together coconut sugar and cinnamon on plate.

Brush the tops of the donuts with melted ghee, then dip in the cinnamon sugar to cover.

These are best enjoyed fresh, but you can store in the refrigerator in an airtight container for up to 3 days.
Nutrition Facts
Paleo Baked Churro Donuts
Amount Per Serving (1 donut – makes 6)
Calories 179
Calories from Fat 126
% Daily Value*
Fat 14g22%
Cholesterol 48mg16%
Sodium 206mg9%
Potassium 30mg1%
Carbohydrates 11g4%
Protein 4g8%
Vitamin A 49IU1%
Vitamin C 1mg1%
Calcium 34mg3%
Iron 1mg6%
* Percent Daily Values are based on a 2000 calorie diet.
What Great Grandma Ate / Jean Choi is a participant in the Amazon Services LLC Associates Program, an affiliate advertising program designed to provide a means for sites to earn advertising fees by advertising and linking to Amazon.com.
Regarding other affiliate links and affiliate relationships: In order for me to support my blogging activities, I may receive monetary compensation or other types of remuneration for my endorsement, recommendation, testimonial and/or link to any products or services from this blog. Thank you for your support and understanding.