Boost your immunity with these antioxidant rich Chocolate Mushroom Paleo No Bake Energy Balls, and learn the amazing health benefits of reishi and chaga mushrooms!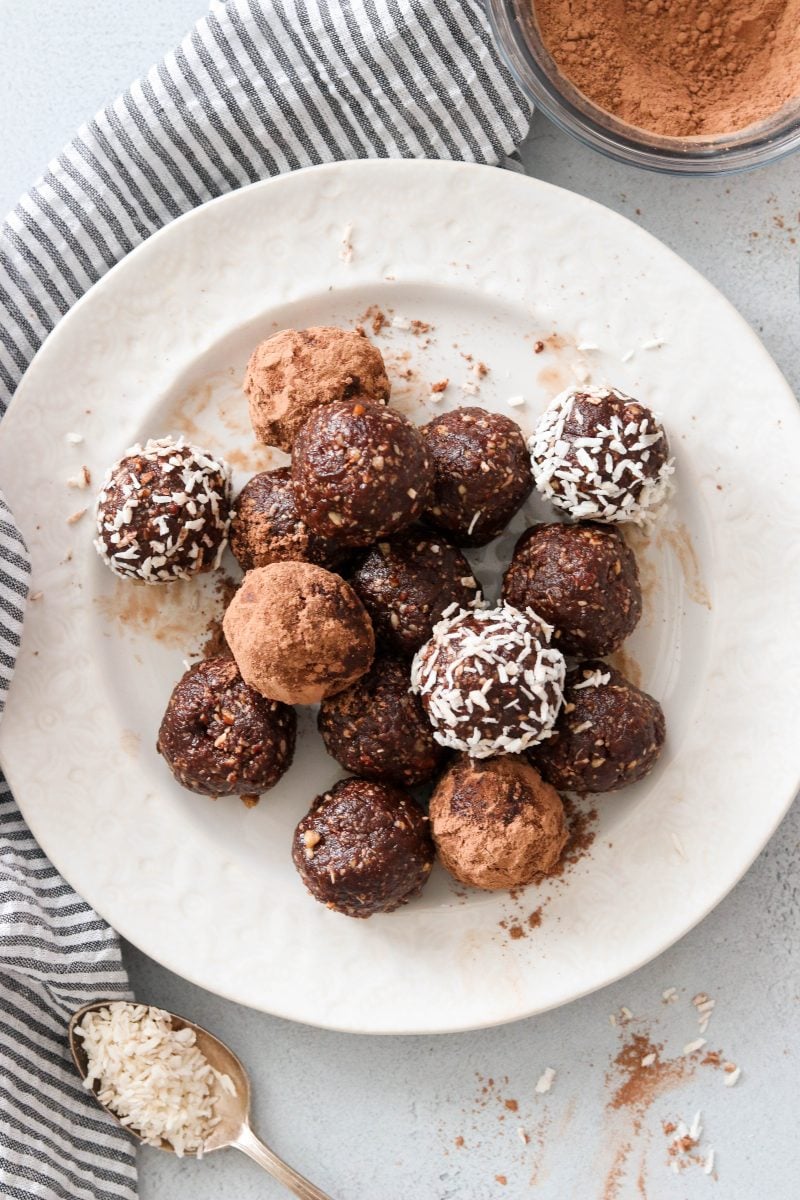 Mushrooms are all the rage right now. I've been seeing mushroom coffee and various supplements popping up everywhere, and at first I thought that it was just a food trend that was bound to go away soon. That was until I tried it out myself, and was amazed at the difference I felt in my energy and health!
I've been drinking it in tea form for over a week now, and I've been gradually sleeping better and feeling better, and it's become part of my daily self care routine that I really really enjoy.
Chocolate Mushroom Paleo No Bake Energy Balls Recipe
While I love the taste of these antioxidant rich mushrooms in tea form, I totally get it if you are not into the medicinal, slightly bitter flavor. I grew up taking traditional herbs from acupuncturists so I'm used to this kind of taste, but if you are not, these Chocolate Mushroom Paleo No Bake Energy Balls are the perfect way to incorporate this superfood into your diet.
These paleo no-bake energy balls are only sweetened with medjool dates, and combined with pecans, cacao powder, shredded coconut, and all healthy, real-food ingredients. I also like to add a scoop of grass-fed collagen for an extra boost of nutrients and protein. It's so chocolatey and delicious, and you won't taste the mushrooms at all!
Reishi vs Chaga
Reishi and chaga are 2 of the most popular superfood mushrooms that I use in this recipe, with amazing health benefits. Both of these have been used in traditional Chinese medicine for thousands of years for boosting immune health, promoting longevity, and while increasing the body's resistance to environmental toxins and stress.
Reishi
Among the two, reishi helps you sleep better, reduces stress level, and even improves symptoms of seasonal allergies and asthma. It's also known for improving your hormonal health, which is constantly at a risk of being in imbalance with the amount of toxins we are exposed to in the modern world.
I really like taking reishi at night before bed, and I've been sleeping noticeably better; much longer and deeper. As someone who has never been a great sleeper, this alone make it a lifesaver in my book. I also think it's been helping with my nasal congestion during pregnancy, which I'm so thankful for!
Chaga
Chaga is rich source of antioxidants and boosts your immune system like no other by increasing the production of white blood cells! It's also known to lower inflammation in the body and improve cognitive function by providing calm energy.
I like my matcha latte in the morning, so I take my chaga tea in the afternoon when my brain tends to slow down a bit. It really has been helping a lot with keeping me focused throughout the end of my work day without any caffeine. I'm actually quite sensitive to caffeine after 12pm, so this is the perfect way for me to get my energy up while also helping me relax enough to fall asleep at a proper time at night.
However, the full benefits of Reishi and Chaga can't be unlocked unless they're combined with complementary plants.
This is why how you enjoy these two superfoods and their formula actually matter. After looking at various products on the market (there are SO many these days!), I chose Pique Tea's Mushroom Elixirs to get my daily dose of these medicinal mushrooms. There's a reason why these elixirs work so well: they have actually designed their tea to maximize their bioavailability and potency.
TCM Mushroom Elixirs
Each of their chaga and reishi teas are combined with other beneficial herbs to boost their health properties so you can absorb all the immune boosting nutrients that your body can take advantage of:
Chaga Energy Elixir
Organic wild-harvested chaga: Immune, anti-inflammatory and anti-viral support. Improves brain function and increases energy. Revitalizes the spirit.
Organic burdock root: Boost energy and support detoxification, including elimination of heavy metals.
Organic N.American ginseng: Boost energy, strength and stamina and enhance brain function.
Reishi Calm Elixir
Organic reishi: For immune, anti-inflammatory and anti-viral support. Mood regulation and stress reduction. Replenishes the spirit.
Organic jujube date: Replenishes energy, circulation, Qi in blood.
Organic goji berry: Combat stress and fatigue. Support eye health.
Organic monk fruit: Promote respiratory health and sweeten without raising blood glucose levels.
If you want to try them out yourself, make sure to check them out in the following link. If you don't like it or if you don't feel the beneficial health effects, you can return the unused carton for a full refund and free shipping!
To enjoy, all you have to do is add hot water to each of these elixirs and the tea crystals will dissolve right away. If you want to drink them cold, I add hot water to dissolve the tea first, and then top it with ice after. You can even add a sweetener or your favorite dairy free milk as well.
However, if you just can't get used to the taste or if you want to enjoy it in a delicious snack/dessert form, these Chocolate Mushroom Paleo No Bake Energy Balls are seriously the tastiest way to enjoy them, without being able to taste the mushroom flavor at all!
Chocolate Mushroom Paleo No Bake Energy Balls (Reishi & Chaga)
Boost your immunity with these antioxidant rich Chocolate Mushroom Paleo No Bake Energy Balls, and learn the amazing health benefits of reishi and chaga mushrooms!
Print
Pin
Rate
Servings:
15
energy balls
Instructions
Place all ingredients in a food processor and blend until crumbly and sticky. You should be able to pinch the mixture into a dough with your fingers.

Transfer to a bowl and mix well so all the ingredients are well dispersed.

Use your hands to form into 15 even balls.

Refrigerate or freeze for 15 minutes until they firm up.

Optional: you can roll the balls in cacao powder or shredded coconut before enjoying.


Enjoy right away, or you can refrigerate in an airtight container for up to a week or freeze for up to 1 month.
Nutrition Facts
Chocolate Mushroom Paleo No Bake Energy Balls (Reishi & Chaga)
Amount Per Serving (1 energy ball (makes 15))
Calories 96
Calories from Fat 54
% Daily Value*
Fat 6g9%
Sodium 49mg2%
Potassium 130mg4%
Carbohydrates 11g4%
Protein 1g2%
Vitamin A 20IU0%
Vitamin C 0.1mg0%
Calcium 13mg1%
Iron 0.5mg3%
* Percent Daily Values are based on a 2000 calorie diet.
What Great Grandma Ate / Jean Choi is a participant in the Amazon Services LLC Associates Program, an affiliate advertising program designed to provide a means for sites to earn advertising fees by advertising and linking to Amazon.com.
Regarding other affiliate links and affiliate relationships: In order for me to support my blogging activities, I may receive monetary compensation or other types of remuneration for my endorsement, recommendation, testimonial and/or link to any products or services from this blog. Thank you for your support and understanding.